Juniata College Celebrates Newly Renovated Dining Hall
(Posted March 11, 2019)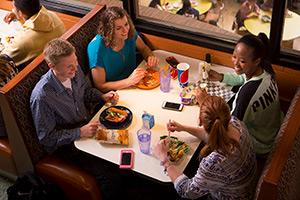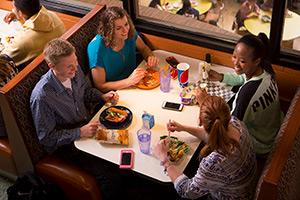 Renovations Introduce Students to 'Clean Plate', an Allergen-free Station
HUNTINGDON, Pa.—Juniata College kicked off the start of the spring semester by welcoming students with a new dining experience. Operated by Parkhurst Dining (www.parkhurstdining.com), Baker Refectory Dining Hall received major renovations over the five-week winter break, including the addition of a Clean Plate station in Eagles Landing.
The Clean Plate station offers students healthy dining options that are gluten-free and completely free of the top eight most common food allergens. All recipes are free of gluten, wheat, soy, milk, eggs, peanuts, tree nuts, shellfish and fish. The recipes included at the station have been carefully and thoughtfully developed by Executive Chef Lisa Palermo and Chef de Cuisine Morgan Olson and include dishes such as Cornish game hen, kebabs, and spring vegetables with quinoa penne. The Clean Plate station will be fully certified as an allergen-free zone through Kitchens with Confidence. Additionally, seventy of Juniata's Parkhurst Dining employees have been certified in AllerTrain™ allergen training, in order to better serve students' dietary needs.
"We are extremely excited to introduce the students at Juniata College to Clean Plate," says Tony Williams, General Manager, Parkhurst Dining. "While the recipes at the Clean Plate station are created to be allergen-free, they're also created to be delicious and craveable, and are always packed with fresh and exciting seasonal flavors."
"Through our partnership with Parkhurst, our students are the beneficiaries of this beautiful and functional space redesign. The addition of the Clean Plate program to help students with special dietary needs is a terrific upgrade for which our students have been expressing much appreciation," says Christine Gibson, Juniata College.
"We're able to craft dishes free of allergens because we know exactly what goes into every recipe."

—Mark Broadhurst, Chief Operating Officer, Parkhurst Dining
"Juniata's Clean Plate station highlights Parkhurst's Gold Standards, focusing on fresh ingredients and made-from-scratch food. We're able to craft dishes free of allergens because we know exactly what goes into every recipe," says Mark Broadhurst, Chief Operating Officer, Parkhurst Dining. "For us, creating authentic culinary experiences isn't just what we do, it's who we are."
Other notable renovations include a brand-new layout featuring a staircase and balcony that complements Eagles Landing's fresh facelift. Parkhurst Dining introduced students to Cinco Cantina, a customizable, fresh Mexican concept featuring creative and authentic cuisine. In addition, Beeghly Library now features a new grab-and-go area with touch screen kiosks offering students On The Go! sandwiches, salad, snacks, and beverages during Library hours.
For more information about Parkhurst Dining or the recent renovations at Juniata College visit www.parkhurstdining.com or www.juniata.edu.
About Parkhurst Dining
Parkhurst Dining provides exceptional culinary experiences and dining services to guests at the finest educational institutions and corporations. Founded in 1996, Parkhurst Dining has become an industry leader in local sourcing and sustainable dining experiences. For more information, visit www.parkhurstdining.com.
Parkhurst Dining is a member of the Eat'n Park Hospitality Group which is a portfolio of foodservice concepts focused on personalized dining and creating smiles. As a responsible neighbor, Eat'n Park Hospitality Group reinvests 5% of its pretax earnings in initiatives that enhance communities they serve. Additional information about Eat'n Park Hospitality Group is available online at www.enphospitality.com.
Contact April Feagley at feaglea@juniata.edu or (814) 641-3131 for more information.