Healing With Humor: Junior Taylor Hallabuk Wins 2019 Bailey Oratorical
(Posted March 9, 2019)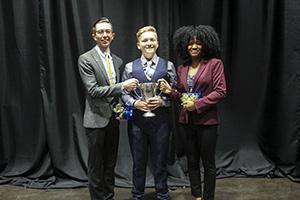 Photo: Karis Cornelius '20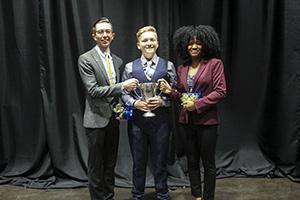 Photo: Karis Cornelius '20
Huntingdon, Pa. – On March 6, 2019, Taylor Hallabuk, a junior from Towanda, Pa., studying strategic communication and marketing, was awarded first place in Juniata College's 109th Bailey Oratorical speech competition, an annual event that celebrates the student voice and its power to make change.
In six to eight minutes, this year's speeches had to answer the question, "How can your core beliefs shape our future?" This prompt was inspired by the 1950s radio program, "This I Believe," hosted by acclaimed journalist Edward Murrow, which according to National Public Radio, "sought to point to the common meeting grounds of beliefs, which is the essence of brotherhood and the floor of our civilization."
At the Bailey, where associate professor of communication and director of community-engaged learning Sarah Worley says, "ideas are expressed and challenged," Hallabuk shared her belief in using humor to heal ourselves and others, which ultimately will bring society together.
"There's a time and place for every emotion, but humor has the power to transform us by coping with our insecurities, mending our heartbreak in interpersonal relationships and unifying our relationship with a diverse society," Hallabuk said in her speech.
Hallabuk drew on personal stories where humor helped her cope with insecurities and traumatic experiences, as well as the most recent presidential political election, when political memes were ubiquitous online.
"These political memes didn't change the outcome of the election–they helped us cope with the results and find common ground with others," she says. "Humor allows us to unify the diversity within our society, by laughing when all else fails, giving us the space to connect with even those we might fundamentally disagree with."
Hallabuk's persuasive speech earned her the $1,000 grand prize and the People's Choice Award, a text-to-vote poll where audience members choose their favorite speech.
In second place winning the $500 award was Vinnie Caroselli, a senior from Upland, Pa., studying graphic communication. In third place winning the $300 award was Shamya Butler-Bonner, a sophomore from Philadelphia, Pa., who studies theatre.
Other contestants included Amily Buenrrosto, a junior from Medway, Mass., studying psychology; Theresa Joson, a senior from Bowmansville, Pa., studying strategic communication; Anna Kauffman, a senior from Palmyra, Pa., studying marketing analytics; and Michael Realbuto, a sophomore from Norristown, Pa., studying marketing and communication.
This year's judges included Dustin Gee, a 2010 alumnus of the College who serves as the Head of Employer Development and Engagement a Berklee College of Music and the Boston Conservatory at Berklee; Rob Gillio, a pulmonary physician at the J.C. Blair Memorial Hospital in Huntingdon, who also serves as the medical director of population health; and Loni (Fultz) Kline, a 2003 alumna of the College who serves as the vice president for institutional advancement at the Pennsylvania College of Technology.
The original Bailey Oratorical Award was established in 1910 by Letitia Fisher Bailey and the Honorable Thomas F. Bailey, who served as president judge of Huntingdon County from 1916 to 1936. The contest is named in honor of John M. Bailey, the father of Thomas Bailey, and a former Huntingdon County president judge.
The oratorical contest has a long tradition at Juniata College, as students from all areas of study can compete for the monetary prize. The original prizes for the contest were $15 and $25. An enhanced endowment contribution by Judge Bailey's son-in-law, Colonel Sedgley Thornbury, provides the contest's prize money. In addition, the name of the winner will be permanently inscribed on an antique-loving cup presented to the College by Colonel Thornbury's son, Thomas Bailey Thornbury.
--Written by Taylor M. Smallwood '19—
Contact April Feagley at feaglea@juniata.edu or (814) 641-3131 for more information.