Concert Choir to Perform Morocco Homecoming Concert
(Posted March 22, 2019)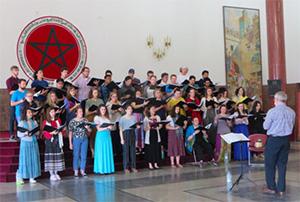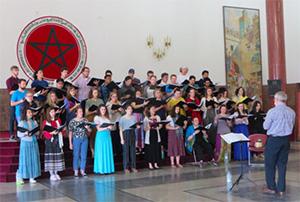 Huntingdon, Pa. - On Sunday, March 31 at 3 p.m. in Halbritter Center for the Performing Arts, Rosenberger Auditorium, Juniata will be hosting a homecoming concert for the Concert Choir, after they return from their trip to Morocco. The performance is free and open to the public.
The concert will include music from approximately five different countries and five different languages.
The last piece to be performed during the homecoming concert will be the same closing piece that has been sung since 1993. Russell Shelley, professor of music and director of choral and vocal activities, describes the last piece as, "[The Concert Choir alumni] joining us for the last song which is always sung surrounding the audience in Rosenberger. That is a moment we all look forward to each Tour Homecoming Concert."
Shelley describes the Morocco trip as involving, "singing in schools and community centers, spending meaningful time with Moroccan singers and students, experiencing the unique aspects of Moroccan culture, studying Moroccan political and art history, and creating a tighter knit Concert Choir community through shared experiences."
 About his favorite part about the abroad trips, Shelley says, "I enjoy working with students to achieve our goals of meaningful community and authentic art presentation, [and] watching students grow and change."
"One of my favorite parts of the abroad trips is getting immersed into that country's culture by staying with host families," says Abigail Altland, a sophomore in her second year in the Concert Choir. "It gives us a very authentic experience that I will remember forever. I also love being able to share my love for music to people around the world."
The homecoming concert has been a yearly event since 1932, ending each season for the Concert Choir. Shelley laid out the 2018-2019 season for the Concert Choir, which includes several concerts in the fall and a tour through Germany in December for the end of the 2018 year. In March, there will be the Morocco homecoming concert, a domestic weekend tour and a recording session.
Shelley describes the students that participate in the Concert Choir as, "students who are studying more than 20 different areas of study, coming from several different states and countries, are committed to reaching their fullest potential, creating a supportive community within Concert Choir, and sharing the responsibilities of keep the tradition strong."
Join the Juniata Community in the viewing of the 2019 Homecoming Choir Concert on March 31, 2019.
--Written by Rachel Desfosses '21-- 
Contact April Feagley at feaglea@juniata.edu or (814) 641-3131 for more information.