Physics Phun Night Open to Community
(Posted April 10, 2019)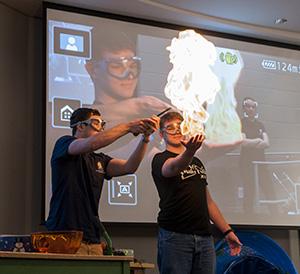 Photo: Veronica Cosmopolis '20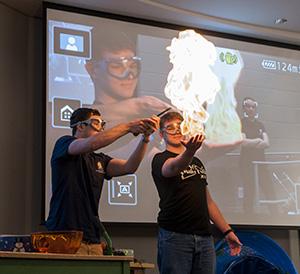 Photo: Veronica Cosmopolis '20
Huntingdon, Pa. – A Juniata College event aimed at science education outreach—and physics "phun"—will soon provide an opportunity for Joie Escuadro, instructor of mathematics at the College, to lie on a bed of nails. Physics Phun Night, which is free and open to the public, takes place at 7 p.m., Tuesday, April 16, in Alumni Hall in the Brumbaugh Academic Center. And Bed of Nails isn't the only spine-tingling demonstration.
"This is the 21st year of what has become a much anticipated Juniata College and Huntingdon Borough event," says Jim Borgardt, William W. Woolford Professor of Physics at the College. "The event is fun and accessible for all ages, and aims to inspire a sense of wonder in everyone, especially kids, with an evening of visually spectacular and engaging demonstrations."
Demonstrations will include students igniting flaming balls of methane gas; using of household items, like toilet paper, to show pressure and flow; and demonstrating sound waves in a tube using protruding gas fire. By the end of the the evening's presentations, Juniata students will demonstrate more than a dozen concepts in an entertaining and informative presentation.
Physics Phun Night, which is sponsored and presented by the Society of Physics Students, combines entertainment and education. The Juniata chapter has received 20 consecutive best chapter awards.
Contact April Feagley at feaglea@juniata.edu or (814) 641-3131 for more information.