Emmy-Winning Alumnus to Speak at Juniata's 141st Commencement Where Educator Will Receive Honorary Degree
(Posted April 22, 2019)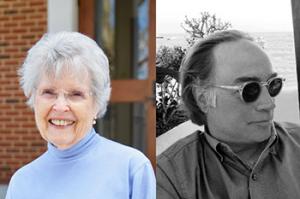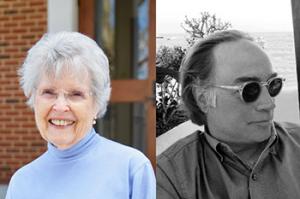 Huntingdon, Pa. -- Michael A. Trim, an Emmy-winning cinematographer who is also a 1976 graduate of Juniata College, will receive an honorary doctor of humane letters degree and deliver the commencement address at Juniata's 141st commencement ceremony at 10 a.m., Saturday, May 18 on campus.
In addition, Harriet Beahm Kaylor, a retired educator, will receive an honorary doctor of humane letters degree. Kaylor has held leadership positions in regional and national teachers' associations, served as an instructor at Juniata and was named to the Standards and Practices Commission under the Pennsylvania Department of Education in 1984. She was also an avid visitor to Pennsylvania State Correctional Institutes, where she supervised Juniata students' internships and earned recognition for her volunteerism from the Pennsylvania Prison Society.
Trim began his work in film and television serving as a production assistant for a commercial production company. He then worked his way up to become a gaffer on films such as Angel Heart and Mississippi Burning. He soon became a director of photography and worked on commercials for Nike, Coke and Verizon, also contributing to the famous "Got Milk?" ads. He has worked as director of photography for television shows including Weeds and Parks and Recreation. While working on Weeds, Mary-Louise Parker, who played the lead role on the show, asked Trim if he'd be interested in directing, which was the start of his directing career. He then directed the pilot episode, as well as several subsequent episodes, of Orange is the New Black.
Trim has earned many accolades for his contributions to film and television. In 1995, he earned an MTV Award for Best Cinematography in a Music Video for "Love is Strong" by the Rolling Stones. In 2010, he was awarded an Emmy for Best Cinematography on the Netflix series Weeds. In 2014, he earned a Gold Derby Award for the Best Comedy Episode of the Year on Orange is the New Black, when he served as director. And, in 2015, he earned the Danny Thomas Award for Outstanding Producer of Episodic Television Comedy from the Producer's Guild of America for his work on Netflix's Orange is the New Black.
Trim is still directing and producing. His latest work includes contributions to Lodge 49, an AMC television series.
Kaylor graduated magna cum laude from Manchester College in North Manchester, Ind., in 1951 with a bachelor's degree in history and English and a teaching certificate to teach history and English on the secondary level in the state of Indiana. She completed her master's degree in curriculum and instruction in 1977 and her doctorate in the same subject in 1980, both from the Pennsylvania State University.
Since the early 1950s, Kaylor has served as an elementary classroom teacher in South Bend, Ind., a health and physical education teacher in Johnstown, Pa., an instructional assistant in the Juniata Writing Program, an elementary teacher in Petersburg, Pa., a middle school social studies teacher in Huntingdon, Pa., and a social studies teacher in Huntingdon, Pa., where she also chaired a department. She furthermore supervised a Reading Across the Curriculum grant at the Tuscarora Intermediate Unit which connected teachers in Mifflin, Juniata and Huntingdon counties. 
Kaylor held leadership roles in teachers' unions at the local level in 1973 and 1974. In 1975, she was elected to the executive committee of the central region of the Pennsylvania State Education Association (PSEA), a role in which she served for more than six years before becoming vice president of the same regional organization. In 1984, Kaylor was named to the Standards and Practices Commission under the Pennsylvania Department of Education by Pennsylvania Governor Dick Thornburg, based on a recommendation by Pennsylvania Representative Sam Hayes, Jr. During her work on this commission, Kaylor continued to serve the central region chapter of PSEA and added service on the instruction and professional development, intergroup relations and international committees. She was awarded recognition by the intergroup relations committee in 1984.
In 1977, PSEA recommended that Kaylor be trained by the National Council for the Accreditation of Teacher Education (NCATE) to become a member of the Board of Examiners, the only national accrediting agency at that time. In 1980, Kaylor began serving as a central region delegate to the National Education Association. Meanwhile, she continued to serve NCATE and completed 22 on-site visits to departments of teacher education in colleges and universities across the U.S.
After her retirement from her career as a teacher, Kaylor began visiting Smithfield and Huntingdon State Correctional Institutes (SCI) as an Official Visitor with Pennsylvania Prison Society. From 1992 through 2018, she met regularly with the Board of Directors of the Pennsylvania Lifers Association at SCI-Huntingdon, and added visits to SCI facilities in Coal Township and Rockview in addition to the Huntingdon County Jail. During this term, she served as the convener of the Huntingdon County Chapter of the Pennsylvania Prison Society.
In addition to volunteering inside correctional institutes, Kaylor shared her learning with those outside by organizing community conversations around justice for people in the Huntingdon community in 2011 and by organizing a luncheon to celebrate the 225th anniversary of Pennsylvania Prison Society in 2012. In 1995, Kaylor was recognized as Visitor of the Year by the Pennsylvania Prison Society. And, in 2017, her service was recognized by the Juniata College Office of Equity, Diversity and Inclusion.
Juniata's 141st Commencement will be viewable by live stream at www.juniata.edu/commencement.
Contact April Feagley at feaglea@juniata.edu or (814) 641-3131 for more information.