A Chain Reaction: Juniata Sophomore Earns Barry M. Goldwater Scholarship for Biology
(Posted May 16, 2019)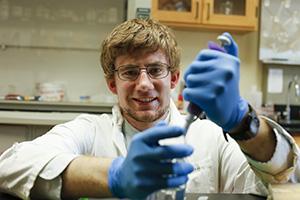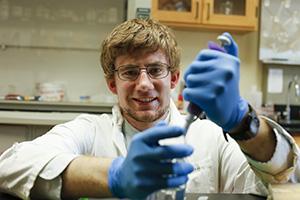 Huntingdon, Pa. – Joshua Brycki, a sophomore at Juniata College studying biology from Worcester, Pa., has been awarded a Barry M. Goldwater Scholarship. Brycki was chosen from a field of 1,223 students from hundreds of colleges and universities nationwide. This year, 492 scholarships were awarded based on academic merit in math, science and engineering.
The scholarship will assist Brycki with tuition for $7,500 for both junior and senior year of his undergraduate career, during which he will continue his studies in biology.
"The scholarship shows me that I am accepted by the biological research community," Brycki says. "The financial stability will help me grow as a researcher because I can focus on getting jobs to learn, as opposed to jobs that will pay me the most money."
Brycki's interest in biology stems from growing up outdoors, exploring nature, visiting state parks and taking biology classes in high school. 
"My interest in biology has grown over the years. I visited Juniata during Liberal Arts Symposium," says Brycki. "I was amazed to see the impact students had as undergraduates. This led me to realize I wanted to make an impact, too."
Brycki is interested in microbiology, bioengineering, and synthetic biology.
"Biology asks fundamental questions about what it means to be human," Brycki adds. "I enjoy the process of learning in a field where there is a lot of learning to be done."
Brycki heard about the scholarship from Ursula Williams, assistant professor of chemistry. His other mentors, Regina Lamendella, associate professor of biology, and Jason Chan, assistant professor of biology, and his peers at the College encouraged Brycki to apply for the Goldwater award.
 "Juniata's professors are super invested, not just in their own research, but in helping their students' research," says Brycki. "Also, other students are supportive here at the College. I couldn't imagine an education without the people I have met."
Outside of the lab, Brycki is the President for Juniata's branch of the American Society for Microbiology to promote scientific learning outside of the classroom. He is involved in PLEXUS to support diversity on campus. And, Brycki is the secretary of Tri Beta Honor Society.
Last summer, Brycki researched with Steve Archer at Bigelow Laboratories for Ocean Sciences through the National Science Foundation's Research Experiences for Undergraduates. There, Brycki immersed himself in lab research, working in the biogeochemical department. He studied halogen cycles and  gas production in diatoms, which are algae that live in houses made of glass. This is important for understanding ozone depletion, biologically active halogen cycling and algal physiology. Brycki presented his marine microbiology research in Puerto Rico for the Association of Limnology and Oceanography.
Over the summer, Brycki will work alongside Jason Chan and Regina Lamendella to continue his research on host bacterial interactions. Brycki looks at bacteria's effects on the gut to understand the symbiosis, or the close relationship, between the bacteria and the host. At this year's Liberal Arts Symposium, Brycki presented this research for the past two years. He will present again at the American Society for Microbiology National Meeting in San Francisco, Calif., this summer.
Through all of this, Brycki found his niche in applied research.
"There's a continuum in research. On one end, there is fundamental research that is, theoretical, in-depth, specific to one field, and not applicable right away," Brycki says. "On the other, there is applied research that instantly helps policy makers and the industry. I want to immediately help people and the environment."
The Barry Goldwater Scholarship and Excellence in Education Foundation was established by Congress in 1986 to serve as a living memorial to honor the lifetime work of Senator Barry Goldwater, who served for 56 years as a soldier and statesman, including 30 years of service in the U.S. Senate. According to the Foundation's website, "By providing scholarships to college sophomores and juniors who intend to pursue research careers in the natural sciences, mathematics and engineering, the Goldwater Foundation is helping ensure that the U.S. is producing the number of highly-qualified professionals the Nation needs in these critical fields."
-- Written by Sierra Waite '21 – 
Contact April Feagley at feaglea@juniata.edu or (814) 641-3131 for more information.