Juniata College Team Moves on to Final Round in National Bank Case Study Competition Finals
(Posted May 22, 2019)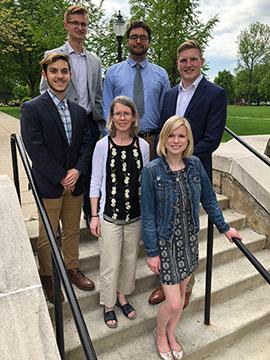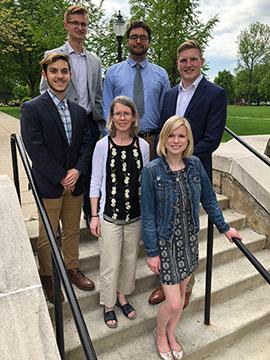 Huntingdon, Pa. – A team of students from Juniata College has advanced to the finals as one of six teams in the 2019 Conference of State Bank Supervisors (CSBS) Case Study Competition, a national program that allows undergraduate student teams and local community banks to collaborate and conduct case studies. 
The CSBS competition requires a group of three to five students to partner with members of a local community bank to conduct case studies on this year's topic, "How community banks will benefit from the new Economic Growth, Regulatory Relief and Consumer Protection Act."
Emerging from the second round which included 15 teams, Juniata's team, consisting of Katherine "Katie" Migatulski, a senior from Boiling Springs, Pa.; Wyatt Page, a junior from King of Prussia, Pa.; David Hibner, a junior from Burke, Va.; and Matthew "Matt" Schaeffer, a junior from Mount Joy, Pa., began as one of 58 representing 44 universities across the nation.
"The competition has been fierce this year, and it was hard to limit the finals to six teams," said CSBS Senior Executive Vice President Michael L. Stevens. "We are thrilled by the quality of work they have produced. It is going to be an intense final round."
The only team representing Pennsylvania in the final round, Juniata's team paired with leaders from Kish Bank, a central Pennsylvania-based financial institution which has served its communities for over a century and now has branches located in Huntingdon, Mifflin and Centre counties. 
"I believe that case studies, especially those directly related to 'real' life, are a wonderful opportunity for students to put their learning into action and theory into practice," says Sinéad Gallagher, assistant professor of accounting at the College, who served as the student team's adviser. "This type of case study provides students with a direct insight into the world of business, affords them the opportunity to interact directly with management and thus, network with people they might not otherwise encounter."
Each team must submit a paper that discusses their case study findings as well as a video that highlights their partner bank and the case study paper, for which the College's team is receiving support and assistance from students in the Video Production Team. Both the paper and video were due by April 22, with finalists announced May 7. 
Juniata's team, along with teams representing Eastern Kentucky University, Southeastern Louisiana University, University of Missouri at Kansas City, University of Tennessee at Martin, and Utah Valley University, are the finalists from which the top three will be selected and announced at the 2019 CSBS State-Federal Supervisors Symposium in San Antonio, Texas, May 23.  
The first, second and third place teams will receive scholarship funds from CSBS and members of the top three Pennsylvanian teams–regardless of placement in the national competition–received cash distributions from the PA Bankers Board of Directors. In addition, the winning teams will have their case studies published in a journal of academic research that will be released during the Community Banking in the 21st Century Research and Policy Conference to be held Oct. 1-2, 2019, in St. Louis, Missouri. 
The CSBS was organized in 1902 as the National Association of Supervisors of State Banks. Its vision is "to be the recognized leader advancing the quality and effectiveness of regulation and supervision of state banking and financial services." 
Contact April Feagley at feaglea@juniata.edu or (814) 641-3131 for more information.