Juniata Student Awarded Fulbright Fellowship to Teach in Spain
(Posted May 22, 2019)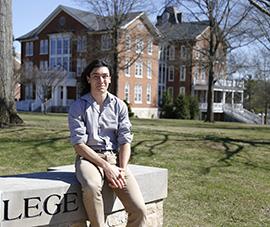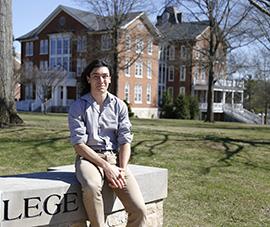 Huntingdon, Pa.—Samuel Wherley, a 2019 Juniata College senior from State College, Pa., who studied international politics with Spanish and Hispanic cultures, has received a Fulbright Fellowship. Through the fellowship, Wherley will teach in Spain for the 2019-2020 academic year.
Funded and organized by the fellowship, Wherley will be located in Madrid and Segovia, teaching English at IE University where he will be doing most of his work with the institution's writing center. 
Regarding his decision to apply for the fellowship, he says, "I very much enjoyed my junior year studying abroad in Spain and was eager to find a way to return. Fulbright seemed like a great way to achieve this while, more importantly, being an excellent challenge and being of significant worth beyond the immediate experience it provides." 
Wherley studied in Barcelona throughout the fall of 2017 and in Madrid in the spring of 2018. 
After being encouraged by his family to apply for a Fulbright Fellowship in the past, Amy Frazier-Yoder, associate professor of Spanish, also encouraged Wherley to apply for the fellowship.
Wherley plans on traveling around the country and throughout Europe during his time in Spain. He is also "very much looking forward to returning to an immersion environment to continue polishing my Spanish."
During his time at Juniata, he was involved in many activities on campus including, Wind Symphony, Concert Choir, Jazz Ensemble, Orchestra, and the ultimate frisbee team. In addition to those organizations, Wherley also served as a Writing Center tutor and a Teaching Assistant for Spanish courses. 
"Working as a Writing Center tutor and TA has helped me to build a body of knowledge and confidence in teaching that I will now be able to employ in the context provided by Fulbright," Wherley says.
During the Liberal Arts Symposium, Wherley presented his thesis which discussed political conflicts in Spain. The program's title was "True and Constructed Realities in Catalonia" in which "the political tensions between the Spanish government and the Catalan secessionist movement" were explored.
Wherley was a presenter in Madrid during the spring of 2018, at which time he discussed "the state of the U.S. political left" at a conference held by Izquierda Unida, the Spanish political party meaning the "United Left."
--Written by Rachel DesFosses '21--
Contact April Feagley at feaglea@juniata.edu or (814) 641-3131 for more information.