Juniata Sophomore to Make Global Impact as Fulbright Summer Institute Participant
(Posted May 22, 2019)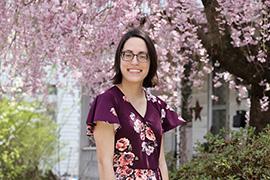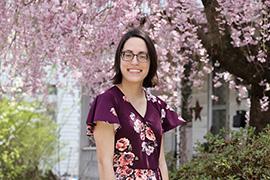 Huntingdon, Pa. – Sierra Waite, a Juniata College sophomore from the small community of Ginter located near Houtzdale, Pa., has received a place on a Fulbright Summer Institute and will travel to the United Kingdom mid-summer. 
"I want to be the first person in my family to have a global impact," Waite said. "Upon learning I received the placement, I called home. As a first-generation college student, I was excited to tell my family I have the opportunity to grow and change personally and academically through cultural learning abroad."
Fulfilling a life-long dream of traveling and studying abroad, Waite, who studies communication and design at the College, will study at the University of Westminster as part of the prestigious and selective summer scholarship program, "Future Leaders in a Global Age." Selection is made by the US-UK Fulbright Commission for this academic and cultural program for U.S. students which focuses on development of a global and leadership skillset while studying classes in a range of subjects including liberal arts, media, art and design, and business. 
Over the course of three weeks, from July 6, through July 27, 2019, Waite will attend two specialist workshops designed to examine and challenge participants approaches to intercultural competencies needed in the professional world of the 21st Century as well as leadership effectiveness and development. She will also be taking the class, "Photographing the City: London."
"I have loved photography since I was in the sixth grade. My parents taught me the importance of making and capturing memories," she said. "I am looking forward to getting better at composition and design and capturing the things that are important to me."
Other activities during Waite's program will include visits and networking activities such as a visit to the London Eye, an East End art walk, a Best of Wales weekend trip, a Theatre trip, a tour of The Making of Harry Potter and a Thames River boat cruise and afternoon tea.
"I'm looking forward to the chance to explore," said Waite. 
Fulbright Summer Institutes cover participants' major costs and provides them with a distinctive support and cultural education program which includes comprehensive pre-departure guidance, enrichment opportunities in country and an opportunity to be a part of the Fulbright alumni network. 
The US-UK Fulbright Commission was founded by diplomatic treaty in 1948 to foster intercultural understanding between the United States and the United Kingdom through educational exchange. The Commission selects participants through a rigorous application and interview process. In making these awards, the Commission looks not only for academic excellence, but a focused application, a range of extracurricular and community activities, demonstrated ambassadorial skills, and a plan to give back to the recipient's home country upon their return. The Commission continues Sen. J. William Fulbright's vision through scholarship and summer programs, enabling British and American citizens to study, research or teach at universities on either side of the Atlantic. 
"Study abroad is a truly transformative experience for so many of those who are able to participate in it," said Penny Egan, CBE, Executive Director, US-UK Fulbright Commission. "I know this year's cohort will make the most of this opportunity to immerse themselves in British culture and I'm sure the experience will leave a lasting impression on both the Summer Institute participants and on those they meet and mingle with during their time here."
Each year, the Commission supports up to 60 U.S. undergraduate students to undertake demanding academic and cultural summer programs at leading institutions in the UK. This year, nine Summer Institute programs are being hosted at institutions across the UK.
Waite credits the encouragement of her family, father, Craig; mother, Tammy; and sister, Renee, and her partnership with many in the campus community, including professors Lynn Cockett, Grace Fala, Ryan Gibboney, James Tuten and Donna Weimer and her mentor, Genna Kasun, with helping her to realize her dream. 
"I had a lot of support on campus and from my family to help me achieve this once-in-a-lifetime opportunity," Waite said. 
The opportunity to study abroad was one of the deciding factors in Waite's decision to come to Juniata, so she was immediately interested when she received an email from the College's Center for International Education inviting her to a meeting to discuss the possibility of applying for the program. 
"It was a great opportunity," said Waite. "During this experience, I hope to gain greater insight into the world, which will encourage me to think, reflect, and engage with everyone I meet."
Waite expressed her hope that this is just the beginning of her experiences abroad while at Juniata as she plans to return to the University of Westminster to study for a full semester in 2020. 
Contact April Feagley at feaglea@juniata.edu or (814) 641-3131 for more information.