Be Who You Are: Emmy-Winning Alumnus Gives Advice as 329 Receive Degrees
(Posted May 23, 2019)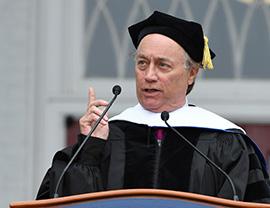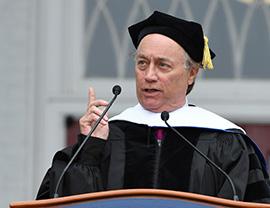 Huntingdon, Pa. -- The members of the Juniata College Class of 2019 were offered words of wisdom during the 141st commencement ceremony May 18 as they gathered on the campus quad one final time as students.
A total of 329 graduates received their degrees, with nine students completing master's degrees, 92 earning bachelor of arts degrees and 229 presented with their bachelor of science degrees.
"You are about to embark on a new journey. There are a lot of people in your lives who have changed who you are, who you have been and how you have taken this journey," said Juniata College President Dr. James A. Troha. "The fact of the matter is that when you wake up tomorrow, the onus is on you. You will have the academic degree and the innate intelligence to be successful out there, but it will be your character, your good judgement and your attitude that makes a difference for you and those around you."
Troha reminded the soon-to-be graduates that the choice to keep growing and learning is theirs alone.
"These are attributes you get to shape every day you wake up and your feet hit the ground. The choice is yours," he said. "Talent you may be born with, but character is something you shape every day."
Sharing a quote from the film, "Dead Poet's Society," Troha urged graduates to make their lives extraordinary.
Class of 2019 president Haley Walker addressed her fellow graduates, celebrating the common bond they share through their experiences at the College.
Honorary doctor of humane letters degrees were bestowed upon retired educator Harriet Kaylor and Emmy Award-winning cinematographer and 1976 Juniata graduate Michael Trim, who delivered the commencement address.
"She is that force in that moral universe that has moved us closer to justice," said professor of sociology Daniel Welliver of Kaylor. "She is a teacher for all who encounter her."
Trim began his academic career in 1972 at the College planning to work in the field of medicine, but quickly realized his interests lay in other areas.
"Sometimes it takes a while for your passion to find you, but when it does, it pulls you along," Trim said. "The more I thought about it, the more I realized I should be doing what I enjoyed."
Turning his attention to a future in keeping with his creative pursuits, Trim changed his POE (program of emphasis) to focus on filmmaking.
"I still had no idea what I was going to do when I graduated," he said, adding that he traveled the country with friends before taking a job as a bike messenger which ultimately allowed him to secure a position at a studio.
Trim began his work in film and television serving as a production assistant for a commercial production company. Working his way up to become a gaffer on films such as "Angel Heart" and "Mississippi Burning," he would later work on commercials for Nike, Coke, and Verizon as a director of photography. Trim has worked on television shows including "Weeds" and "Parks and Recreation." Through his work on "Weeds," actress Mary-Louise Parker sparked his first foray into directing. Trim directed the pilot episode, as well as several subsequent episodes, of "Orange is the New Black."
"I've loved and enjoyed every part of my career trajectory," said Trim.
Over the course of his career, Trim earned many accolades for his contributions to film and television.
Trim concluded his remarks with a quote from the Marvel film, "Thor."
"Don't be who you're supposed to be, be who you are," he said. "You have an incredible opportunity to let that passion find you. Enjoy every minute."
Contact April Feagley at feaglea@juniata.edu or (814) 641-3131 for more information.