Honoring Achievements: Five Juniata Alumni Recognized With Awards
(Posted June 13, 2019)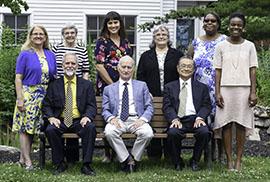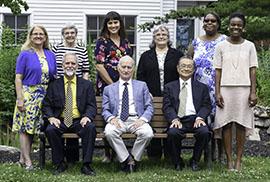 Huntingdon, Pa. – Five distinguished alumni were honored with awards as part of the 2019 Alumni Weekend festivities at Juniata College June 8, 2019. 
Dr. Heng F. Lim of Hershey, Pa., earned the College's Alumni Achievement Award. Ibada A. Wadud, from Brooklyn, N.Y., was awarded Juniata's Young Alumni Achievement Award. Robert W. Pierson of Philadelphia, Pa., received the William E. Swigart Alumni Humanitarian Award. Dr. Randy L. Kochel and Pamela Green Kochel, from Lancaster, Pa., were honored with the Harold B. Brumbaugh Alumni Service Award. 
A 1959 graduate of Juniata, Dr. Heng F. Lim, received the College's Alumni Achievement Award, which honors an alumnus/a who has distinguished him/herself over a period of years and who has achieved a pinnacle position in his/her chosen profession. 
Following his graduation from Juniata, Dr. Lim attended Temple University School of Medicine, completed an internship and a residency at Polyclinic Medical Center in Harrisburg, Pa., and completed a residency as chief medical resident at Geisinger Medical Center in Danville, Pa. He also fulfilled a cardiology fellowship at Hahnemann Medical College in Philadelphia, Pa., where he conducted research funded by the National Institutes of Health before also completing an additional clinical fellowship as chief cardiology fellow at Hahnemann. 
He has earned hospital appointments at Harrisburg Hospital, Harrisburg, Pa., Holy Spirit Hospital, Camp Hill, Pa., Community General Osteopathic Hospital, Harrisburg, Pa., Fulton County Medical Center, McConnellsburg, Pa., and Carlisle Hospital, Carlisle, Pa. Dr. Lim also served as a major in the United States Army Medical Corps, where he was chief of cardiology at Martin Army Hospital at Fort Benning, Ga., and a consultant in cardiology for the southeastern region of the Army Medical Corps. He received a United States Army Commendation Medal and Citation for Meritorious Service in 1970. 
While practicing, Dr. Lim has served as an instructor in cardiology at Hahnemann Medical College as well as a professor of medicine at the Pennsylvania State University's Hershey Medical College. He has also shared his knowledge in four national medical journals. 
Over the course of his career, Dr. Lim has been named a fellow of the American College of Physicians, a fellow of the American College of Cardiology, a fellow of the American College of Chest Physicians and a fellow of the Council of Clinical Cardiology of the American Heart Association. He is a member of the American Medical Association, the Pennsylvania Medical Society, the Dauphin County Medical Society, and the American Society of Nuclear Cardiology. The American Health Council, a global network of physicians and health scientists, named Dr. Lim one of America's "Best in Medicine."
"The most memorable experience I had at Juniata was the freshman chemistry course. To surmount the difficult and extremely challenging course material, I had to learn to use the 'survival' code: Persistence, Perseverance and Patience," says Dr. Lim. "Juniata had not always provided a direct answer to a student's question or need, but it had often provided an environment conducive to a student to be innovative and creative to resolve an important issue pertinent to his or her growth and development."
A 2007 graduate of Juniata, Ibada A. Wadud earned the College's Young Alumni Achievement Award, which honors an alumna/us not more than 15 years out from graduation who has distinguished him/herself in their chosen profession. 
After completing her bachelor's degree in global justice and human rights at Juniata, Wadud pursued further training as an artist-in-residence with the University of Ideas (UNIDEE). Funded through a grant awarded by the philanthropic arm of Italian menswear brand Ermenegildo Zegna, her residency afforded Wadud the opportunity to spend nine months in Italy exploring sustainable manufacturing at Zegna, Gucci and Fendi. She has also studied sustainable design at the Minneapolis College of Art and Design and completed the executive education program at the Institute for Design and Public Policy at the Rhode Island School of Design. 
Wadud now serves as an emerging philanthropist at the Women's Prison Association in New York City. She has founded LULAH, a luxury handbag brand that provides training and employment to women with criminal legal histories, and serves as a junior board member, promoting alternatives to incarceration for women at all stages of criminal justice involvement. In these roles, Wadud lends her voice to fair chance hiring and supports the curation of Real Talk, a series hosted by the Association's clients in collaboration with The Wing. 
Prior to joining the Association, Wadud was employed as the manager of corporate social responsibility at Kate Spade & Company, where she oversaw the production of on purpose, a seasonal handbag collection made in Rwanda that provides vocational training to factory employees and contributes to Kate Spade's annual social impact. She founded Run by Rural, a heritage label that connects marginalized artisans in Peru to the retail marketplace in the U.S., which has been featured in Southern Living Magazine and was recognized by then-Secretary of State John Kerry. 
Early in her career, she also worked to empower students through the Summerfuel College Admissions Edge program, teaching social entrepreneurship at Yale University, and administering a college preparatory program at Columbia University, Tufts University and the University of California at Berkeley. Wadud was named a fellow in the Aspen Institute's Alliance for Artisan Enterprise, worked with the Smithsonian Center for Folklife and Cultural Heritage and served as a language assistant and cultural ambassador to the Spanish Ministry of Education in Seville, Spain. 
Robert W. Pierson, a 1961 graduate of the College, was presented with the William E. Swigart Alumni Humanitarian Award, which honors an alumna/us who, through vocation or avocation has exercised leadership or sacrifice to improve the lives of others. Pierson was presented with the award for his selfless service to his community and beyond through his transformative leadership in Philadelphia's local food movement.  
After earning an advanced degree in biochemistry and several post-doctoral appointments, he attended a two-year masters program in regional planning. Until 1993, he worked as an environmental planner for several engineering and planning consulting firms.  When his interest in locally produced food sharpened, he worked for The Food Trust as director of community markets and later for Penn State Cooperative Extension as a community development educator. He co-founded Common Market, a distribution center for locally-produced foods in 2004; the organization now has distribution facilities in Philadelphia, Atlanta, Georgia, and Houston, Texas. 
"It's great to have someone like Bob on our side," said Nicky Uy of The Food Trust. "He's been championing local food, farmers, the use of public space for food access, buying clubs . . . way before (the term) locavore was coined."
He also founded Farm to City, a business which Pierson now owns and directs. Farm to City now operates 14 outdoor producer-only farmers' markets providing retail and wholesale opportunities to over 180 local farmers and food artisans every year. Pierson's business has facilitated more than $37 million in sales of local agricultural products in the past 19 years. 
In addition to the markets operated by Farm to City, Pierson has assisted five other communities in planning and launching weekly farmers' markets. 
Throughout his career as a food and farm advocate, he has also served on numerous boards of trustees and was named to the Mayor's Food Policy Advisory Council. He created and administered a recycling partnership for 16 communities to recycle materials not yet collected in the City's curbside recycling program, which resulted in these communities earning more than $1 million for local projects from trash collection savings and the sale of recycled materials. 
In addition to serving on several citizen recycling committees, Pierson has served as president of two neighborhood associations. He has also authored numerous publications on food and the local environment, and co-authored a peer-reviewed scientific journal article with a Nobel Laureate. 
Randy L. Kochel, a 1979 graduate of Juniata, and Pamela Green Kochel of the Class of 1980, were presented with the Harold B. Brumbaugh Alumni Service Award, which honors alumni who have shown, above all others, as having given of their time to projects or functions to advance Juniata College.
While building careers in medicine and teaching respectively, Randy and Pamela have maintained an ever-growing relationship with the College. Both encourage those within their spheres of influence to consider Juniata in their college search, and, as Juniata Admission Ambassadors, the couple has successfully recruited more than 25 students. They also supported their sons, Christopher and Tyler, who chose Juniata and thrived. 
The Kochels have given generously of themselves as loyal society donors, supporting international study, the arts, and student affordability. They have also joyfully contributed their time and talent to the College's strong music tradition, having hosted Concert Choir members and prepared meals for the group. Randy has travelled internationally and domestically with the Concert Choir on four tours and has provided leadership for the Choir Affinity Group as well as serving as co-chair of the 75th Anniversary Choir Reunion in 2007. As a family, the Kochels have provided live music for several Legacy Receptions during Homecoming and Family Weekend. 
Randy has mentored and provided career advice to Juniata health professions students on campus and through job shadowing at his family practice in addition to serving on the Alumni Council from 2006-2009. I recognition of this, he was presented with the Health Professions Alumni Appreciation Award in 2006. 
Together, the Kochels have cultivated the Juniata network in the Central Pennsylvania (CPA) region through their attendance at, organization of and hosting events for alumni, parents, students, and friends of the College. They served as members, then co-vice presidents, and co-presidents, of the CPA Leadership Team. Pamela continued her service as secretary of the organization, an office which has been held by just two other alumni since the club's founding nearly a century ago.
Contact April Feagley at feaglea@juniata.edu or (814) 641-3131 for more information.