Bringing Art Back to the People: Sammy Miller and The Congregation to Perform
(Posted September 24, 2019)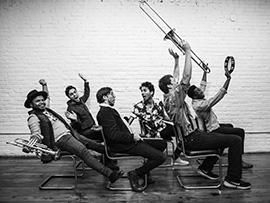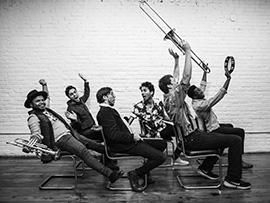 HUNTINGDON, Pa. – Juniata College will host New York-based jazz band Sammy Miller and The Congregation at 7:30 p.m. Saturday, Sept. 28, as a part of the performing arts series, Juniata Presents. 
Held in Rosenberger Auditorium in the Halbritter Center for the Performing Arts, this ticketed event is open to the public. 
A native of Los Angeles, California, Grammy-nominated drummer Sammy Miller has become known for his relentless focus on making music that feels good as a drummer, singer, and bandleader. Upon completing his master's degree at The Juilliard School, Miller formed his ensemble, The Congregation. 
As a band, they share the power of community through their music—joyful jazz. In addition to Saturday evening's full concert at the Halbritter Center for the Performing Arts, Sammy Miller and The Congregation will also present three pop-up mini performances to offer the community a "sneak peek." The first pop-up performance will take place at 4 p.m. Friday, Sept. 27, at Standing Stone Coffee Co. Two additional mini-concerts will be held Saturday, one at 11 a.m. at the Art Space, located at Fourth and Penn streets, and a second at 3:45 p.m. on the Quad on the Juniata College campus. 
Award-winning theater incubator Ars Nova selected The Congregation for the "Makers Lab" in 2017 to develop their genre-bending show, "Great Awakening." While independently the band members have performed and recorded with notable artists including Wynton Marsalis, Lady Gaga, and Queen Latifah at venues including the White House, Lincoln Center, and the Hollywood Bowl, they have opted to stick together to spread joy throughout the world. 
For tickets or to learn more about Juniata Presents events, visit: www.juniatapresents.com, or call (814) 641-JTIX (5849). General admissions tickets for single performances are $20, except where otherwise noted. Single-show tickets for seniors over age 65 and children age 18 and under are $12. Juniata College students are admitted free with a student ID.
Contact April Feagley at feaglea@juniata.edu or (814) 641-3131 for more information.