Juniata Professor and Student Receive Awards at PA Communication Conference
(Posted October 3, 2019)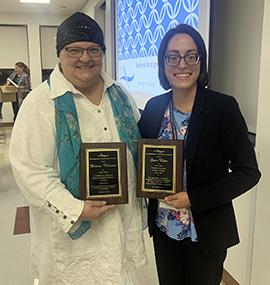 Photo courtesy of Sierra Waite '21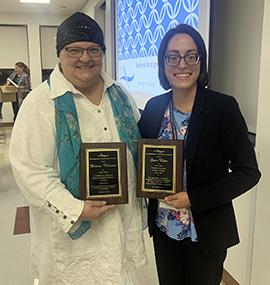 Photo courtesy of Sierra Waite '21
HUNTINGDON, Pa. –Sierra Waite, a junior from Houtzdale, PA, attended the Pennsylvania Communication Association's (PCA) 80th annual conference to accept an award, along with Juniata Chair of Communication Department, Donna Weimer. The conference was held at Penn State Berks and was attended by representatives from colleges across Pennsylvania.
Waite received the second-place undergraduate award for Waite's paper titled, "Text and Subtext in Queen's Symbolic Convergence: Analysis of "Love of My Life" (1975) Using a Fantasy Theme Approach". Going to the conference was "a wonderful opportunity for me to present my research and connect with communication scholars," said Waite. 
Weimer received the Carroll Arnold Distinguished Service Award for her contributions to the PCA and to the profession overall. She acts as the leader of the Undergraduate Research Interest Group for PCA. According to Dr Ron Arnett, the executive director of PCA, Donna is the only person in PCA history to win this award twice (once in 2002 and now in 2019). 
While at the conference Waite presented on a panel of four undergraduate students who had the chance to present their research. Weimer also presented on a panel discussing undergraduate curriculums in communication and what its structure and goals should look like in the future. 
The theme of the conference was Communicating Pennsylvania: An Exploration of People, Places, and Land in "an effort to connect the ideas of citizenship, education, and communication" that occurs in the state of Pennsylvania (from the PCA program). 
The first day of the conference featured panels on John Dewey including ones on his research as well as "mindfulness, material, and judgement" according to Waite. 
Waite said that she had the opportunity to attend "multiple panels… about topics like communication ethics, fake versus real news, technology and the media's influence on communication, rhetoric, and so much more," She "had the opportunity to hear words of wisdom from two keynote speakers, Isaac E. Catt and Karen Tracy, who have made a prominent impact on the field of communication," and "went to networking events to connect with communication scholars including undergraduates, graduates, and professors from all over Pennsylvania." 
--Written by Isabella Bennett '20--
Contact April Feagley at feaglea@juniata.edu or (814) 641-3131 for more information.