Tale of Intrigue, Conspiracy, and Betrayal Takes Stage at Juniata
(Posted October 24, 2019)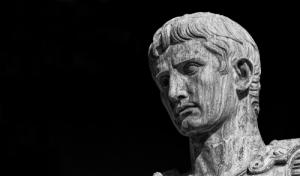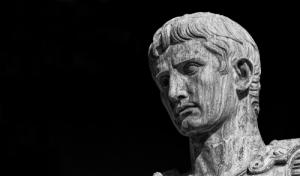 HUNTINGDON, Pa.— A classic tale of political intrigue, conspiracy, and betrayal took to the stage of the Suzanne von Liebig Theatre within the Halbritter Center for the Performing Arts at Juniata College with a new production of Julius Caesar Thursday, Oct. 24.
Performances will continue at 7:30 p.m. tonight, Friday, Oct. 25, Saturday, Oct. 26, and Thursday, Oct. 31, through Saturday, Nov. 2. 
Written by William Shakespeare around 1599, the plot follows the events leading up to the Roman emperor Julius Caesar's assassination and the ensuing politics of his succession. 
Directed by Cosimo Sciortino from York, Pa., a senior at Juniata, this play was selected by students because of increased interest in plays written during the Elizabethan era and their belief that the tale is relevant in today's climate. 
The production follows two main stage shows in the fall and the spring, Sensitive Guys and Silent Skies. Both of the previous plays were directed by faculty members. Neal Utterback, associate professor of theatre arts, describes the College's program as "student driven." Having a student director for the first time will be a push forward in that direction and it is hoped Julius Caesar will be the first of many student-directed plays.  
Utterback shared that Juniata's theater productions are unique in that live theater allows the audience to experience the story first hand. He also observed that opportunities to enjoy live theater are limited in the region. Utterback added that it is exciting to "see young artists at the cusp of their future."
The Juniata theater arts program is becoming more robust by the year. In the future, the theater arts department is planning in bringing professional directors to advise students in the direction of future productions unlike other forms of entertainment. 
To purchase tickets for Julius Caesar, visit www.juniata.edu/academics/departments/theatre. For additional information be sure to visit the Juniata Theater Facebook page.  
--Written by Samuel Reid '23--
Contact April Feagley at feaglea@juniata.edu or (814) 641-3131 for more information.