Partnership to Provide New Educational Opportunities at Juniata
(Posted November 7, 2019)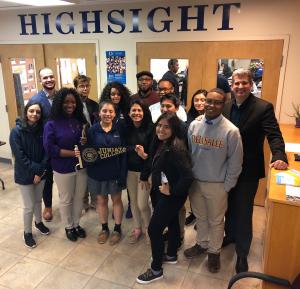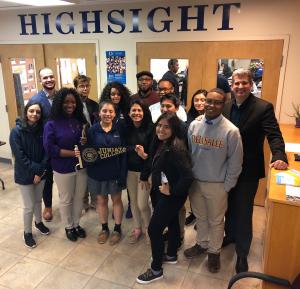 Huntingdon, Pa. — A partnership between Juniata College and HighSight, a Chicago, Il.-based organization focused on academic opportunity, will create new educational possibilities for Chicago, Il., high school students from lower-income families. 
"Juniata is delighted to officially unite with HighSight Chicago," said Jason Moran, vice president for enrollment management at Juniata College. "HighSight has done extraordinary work providing the students they serve with college-readiness support they need, academically and financially." 
HighSight provides scholarships, tutoring, mentoring, leadership development, and college readiness programs to seventh through 12th grade students. 
"This is indeed a partnership, one that HighSight has been proud to build with Juniata College," said HighSight executive director Mark Duhon. "HighSight scholars have a much easier team accessing a great institution like Juniata, one that believes in their potential and supports them as much as HighSight.  And Juniata College benefits by having a cadre of enthusiastic, well-prepared students who are focusing on being successful and connected in college and beyond."
For more than 25 years, HighSight has provided supplemental scholarships for low-income students to attend private high schools throughout Chicago, Il. 
"HighSight scholars are hard-working kids who are thankful for the guidance and support they receive from HighSight and other adults in their lives," said Duhon. "They are responsive in working with the adults that are pointing them to places in their lives they otherwise would unlikely be headed."
While two-thirds of scholars entering the HighSight program are identified as low- to moderately performing middle school students, their own hard work partnered with the organizational supports result in 90 percent of these students attaining their high school honor rolls. 
"HighSight is a strong advocate for our scholars. When others might not, we believe in their potential, and we have worked very hard as advocates on their behalf," Duhon said. "It's personal relationships with institutions like Juniata College, who also believe in the power of what young people can do when they have the right structure encouraging and supporting them."
Through ongoing college counseling, 100 percent of HighSight alumni attend a four-year college or university, with 85 percent attending higher educational institutions within the top three tiers of selectivity across the country. HighSight also helps students secure and use over $5 million in college scholarships annually. 
"Through this relationship, Juniata College will recruit and empower HighSight students to develop the skills, knowledge, and values that lead to a fulfilling life of service and ethical leadership in the global community," Moran said.
Contact April Feagley at feaglea@juniata.edu or (814) 641-3131 for more information.