Juniata's Mock Trial Team Lands Successful Invitational Season
(Posted January 27, 2020)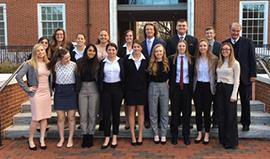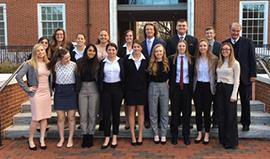 HUNTINGDON— Juniata College's Mock Trial team wrapped up its second invitational season at the Blue Jay Invitational Tournament at Johns Hopkins University in Baltimore, Md., this weekend.
"This was the conclusion of a very successful invitational season," said the team's coach Dave Andrews '74. "We have competed in tournaments against some of the toughest opponents in the country this season."
Juniata took on top-notch teams from the east coast this weekend, including University of North Carolina, Penn State University, Stevenson University, and Johns Hopkins University. 
Meadow Walshaw-Wertz, a junior at Juniata, achieved one of the top-ranked scores in the tournament. Sophomore Mitch Jellen achieved one of the top-ranked witness scores at the tournament. 
At the beginning of the season, each team receives a binder of discovery for the case they will try during their competitions. This season's case was a question of homicide or manslaughter in a scenario in which a mother/daughter hike took a tragic turn when the daughter died from a fall off of a cliff. 
In competition, each team tries the case four times, twice as prosecution and twice as defense. All of the teams are given the same information and witnesses must stick to the affidavit provided, but the ways different teams interpret the information highlight and challenge each member's ability to adapt, problem solve, and think on their feet. 
Throughout the invitational season, Juniata's mock trial team has competed in tournaments at Wake Forest University in Winston-Salem, NC, Penn State University, the University of California at Berkeley in Berkeley, Cal., and Carnegie Mellon University in Pittsburgh.   
In the team's inaugural season last year, Juniata prevailed to the top 10 in the opening round of the Nationals Championship in Islip, NY. Being a nationally-ranked team not only earned the team prestige in the field of play, it provided for invitations to top tournaments in their second year. 
"Now, we are getting ready for national play," Andrews said. "Regional tournaments begin in two weeks."
The first of the regional tournaments will take place Saturday, Feb. 8, and Sunday, Feb. 9, at Penn State University with 24 teams competing. 
Contact April Feagley at feaglea@juniata.edu or (814) 641-3131 for more information.