Partnership to Provide Juniata Connection for California Students
(Posted February 7, 2020)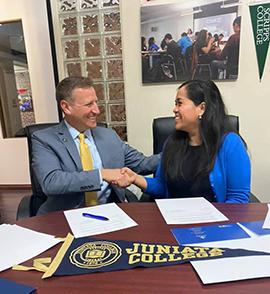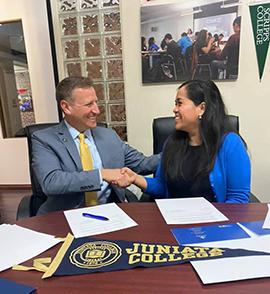 Huntingdon, Pa. — A partnership between Juniata College and Nicholas Academic Centers (NAC) based in Santa Ana, Cal., will create new educational possibilities for southern California underserved high school students. 
"We are so excited to formalize what has been a decade-long relationship to better support Nicholas Academic Center students attending Juniata College," said Molly Thompson, associate dean of admission.
Founded in 2008 by Dr. Henry T. Nicholas III, in partnership with Judge Jack K Mandel, the NAC is an after-school tutoring and mentoring program where high school students can access academic services, emotional support, mentoring, and social services. 
"At the Nicholas Academic Centers, we believe our scholars are deserving of accessing a college education that fosters their intellectual and personal growth—an education that helps our scholars become leaders who make a positive impact in the world," said Rosa Diaz, executive director at NAC. "These beliefs lead us to conclude that our new partnership with Juniata College will be a success, since Juniata is a college which holds similar educational values." 
The NAC provides college connection opportunities and need-based scholarship opportunities for students who meet the program requirements. 
Through this partnership, college-bound students will be secure in the knowledge that both Juniata and the NAC will be there for them throughout the entire process—from the application to graduation. 
"The Nicholas Academic Centers-Juniata College partnership is an opportunity that enables both of our educational organizations to make positive life changing impact for first-generation college students who would otherwise not have access to a premier liberal arts education," Diaz said. 
To date, 1,286 students have graduated from the NAC. Of that number, 96% are first generation students from a low-income background. Following graduation from NAC, 100% are enrolled in a post-secondary institution and 80% of those are enrolled at a four-year university. Ninety percent receive financial aid 92% retained at their chosen college.
"Our past and current scholars who have enrolled, describe Juniata as a special place where they have been given the tools, resources, and opportunities to both, discover themselves and to build meaningful futures," said Diaz. "We are extremely excited to see more Nicholas Academic Centers scholars become Juniata College alumni."
Contact April Feagley at feaglea@juniata.edu or (814) 641-3131 for more information.