Juniata's Mock Trial Team Advances to Opening Round of Nationals
(Posted February 11, 2020)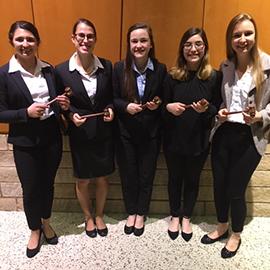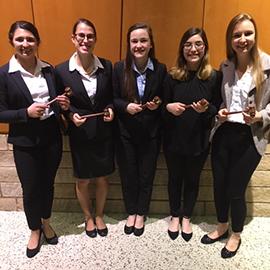 HUNTINGDON— Juniata College's Mock Trial team will proceed on to the opening round of national competition after a successful showing at the regional tournament at Penn State University this weekend. 
"We are very pleased and proud of our students who were able to advance to the national playoffs," said the team's coach Dave Andrews '74. "They have competed against a number of elite schools and Juniata has distinguished themselves as one of the leading schools in mock trial competition."
Five members of Juniata's team achieved top-ranked scores, including Tessa Senel, '21 of Whitehouse Station, N.J., Nattie Daversa '23 of Altoona, Pa., and Olivia Drake '20 of Hollidaysburg, Pa., as witnesses; and Meadow Walshaw-Wertz '21 of Sunbury, Pa., and Mallory Duplantis '20 of Houma, La., as attorneys. 
"To have five members of our team recognized as outstanding attorneys or witnesses is a unique accomplishment," Andrews said. "Only one other school, the University of Virginia, had that distinction."
Of the 20 teams competing, including both the A and B teams from Juniata, six will progress to national-level competition, where they will face the winning teams from regional tournaments in Louisville, Ky., Dayton, Ohio, and Columbus, Ohio. 
"Our B team almost qualified to move on to nationals as well. They tied with the best record for the sixth position and lost in a tiebreaker against the University of Maryland," he said. "They were given honorable mention and are on a waitlist to compete in Cincinnati. That's significant. It shows that our mock trial program is very competitive at this point."
At the beginning of the season, each team receives a binder of discovery for the case they will try during their competitions. This season's case was a question of homicide or manslaughter in a scenario in which a mother/daughter hike took a tragic turn when the daughter died from a fall off of a cliff. 
In competition, each team tries the case four times, twice as prosecution and twice as defense. All of the teams are given the same information and witnesses must stick to the affidavit provided, but the ways different teams interpret the information highlight and challenge each member's ability to adapt, problem solve, and think on their feet. 
In the team's inaugural season last year, Juniata prevailed to the top 10 in the opening round of the Nationals Championship in Islip, NY. Being a nationally-ranked team not only earned the team prestige in the field of play, it provided for invitations to top tournaments in their second year.
"A large part of our success is that we have competed at some of the best tournaments in the country. That has helped prepare us," said Andrews. "I am thankful to our administration and our board, who have given us the financial opportunities to help to get there and to play against the top colleges in the nation."
The mock trial team will travel to Xavier University in Cincinnati, Ohio, March 6-8.
"We're excited to go to Cincinnati," he said. "I'm very proud of these students. They have shown they can compete with anyone and be successful—and they do it with class."  
Contact April Feagley at feaglea@juniata.edu or (814) 641-3131 for more information.