The Water Bearer: Take Off Your Mask and Be Yourself
(Posted February 12, 2020)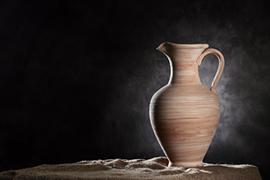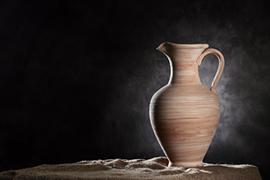 Huntingdon, Pa. –  What if society didn't let you express yourself? A tale of challenging society through self-exploration takes to the stage of the Suzanne von Liebig Theatre within the Halbritter Center for the Performing Arts at Juniata College with the first-time production of The Water Bearer, a play created by three seniors, Lana Boyd, Cosimo Sciortino, and Peter Rankin. Performances will take place at 7:30 p.m. Feb. 20 through Feb. 22. and Feb. 27 through Feb. 29.
Co-written by Sciortino, from York, Pa., and Boyd, from Panhandle, Tx., this play involves a society where the zodiac signs each represent a different character. They interact with the Young Aquarius who is trying to fit in and find themselves. The concept for the play came from a vivid dream that Boyd had one night that she just had to wake up and write down. 
"The Water Bearer is about a young emerging individual who craves self-expression in a society that enforces rules and regulations," said Boyd. "Through the support of their friends, their inner strength, and their healthy curiosity, they are able to overcome. They make a difference, not only for themselves, but for all members of society.
"The moral of the story is that it's perfectly okay to be who you are, no matter how or who you love," Boyd continued. "As long as you love and accept yourself and others, you will be a successful individual in society."
Assistant lighting supervisor Rankin, from Mount Joy, Pa., is excited about the opportunity to put their creative vision into practice.
 "We have the chance to share what we're all so passionate about with the community at large," said Rankin. "The Water Bearer is the culmination of our learning experiences here at Juniata College where we apply what we have learned into a performance."
After four years of contributing to college productions, Boyd, Rankin, and Sciortino still have a passion for theatre. They expressed their gratitude for the constant support from their professors, cast and crew, friends and family, and supporters. 
To purchase tickets, visit www.juniata.edu/academics/departments/theatre. For additional information, visit the Juniata Theatre Facebook page.
-- Written by Sierra Waite '21 -- 
Contact April Feagley at feaglea@juniata.edu or (814) 641-3131 for more information.