Bailey Oratorical Student Competitors to Explore What it Means to 'Be Counted'
(Posted February 24, 2020)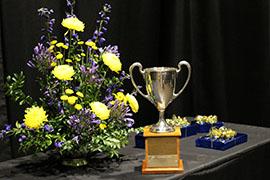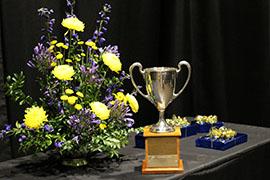 Huntingdon, Pa. – The Bailey Oratorical speech competition, a campus tradition which annual draws thoughtful and poignant discourse from Juniata students, will begin at 7:30 p.m. Tuesday, March 3, in Alumni Hall, Brumbaugh Academic Center. This event is free and open to the public. 
This year, the prompt for speeches is, "Be Counted: Census 2020." 
Established in 1910, the Bailey Oratorical encourages students from all areas of study to present six to eight-minute persuasive speeches on a topic that changes annually. This year's prompt was inspired by the 24th United States Census. As required by the U.S. Constitution, a national census has been conducted every 10 years since 1790. 
Students competing in the Bailey Oratorical are asked to contemplate in what ways being counted (or not) shape priorities and communities. 
Students first sign up for preliminary rounds of the competition, which took place February 22 in Sill Boardroom, von Liebig Center for Science. For this first round, three Juniata alumni returned to campus to act as judges. Laura Hess '11, Morgan Horell '17, and Megan Myers '16 had the responsibility of choosing the seven finalists of the competition.
Student finalists who advance to the final round are coached by faculty mentors to polish content and deliver their speech in preparation for the final round of the competition.
Judges for the final competition include Annette Kane-Shine '93, who is an independent human resources consultant and executive coach; Parisha P. Shah '01, senior research investigator and instructor in the Departments of Medicine and Cell and Developmental Biology at the University of Pennsylvania Perelman School of Medicine; and Erin Strine '04, former Bailey Oratorical finalist and senior market research consultant at Sage Age Strategies, a strategic marketing and consulting firm focusing on the senior living industry. 
The competition, which is streamed live on Juniata's YouTube page, features prizes of $1,000, $500, and $300 for the top three speeches. Audience members are encouraged to participate in a text-to-vote poll for the People's Choice Award.
The original Bailey Oratorical Award was established in 1910 by Letitia Fisher Bailey and the Honorable Thomas F. Bailey, who served as president judge of Huntingdon County from 1916 to 1936. The contest is named in honor of John M. Bailey, the father of Thomas Bailey, and a former Huntingdon County president judge.
The oratorical contest has a long tradition at Juniata College, as students from all areas of study can compete for the monetary prize. The original prize for the contest was $15 and $25. An enhanced endowment contribution by Judge Bailey's son-in-law Colonel Sedgley Thornbury, provides the contest's prize money. In addition, the name of the winner will be permanently inscribed on an antique loving cup presented to the college by Colonel Thornbury's son, Thomas Bailey Thornbury.  
Contact April Feagley at feaglea@juniata.edu or (814) 641-3131 for more information.