Juniata College to Host Third Annual Health Professions Institute
(Posted March 10, 2020)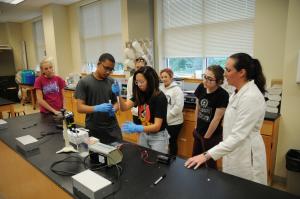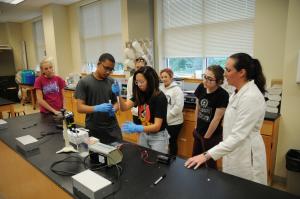 HUNTINGDON, Pa. - Juniata College will host its third annual Health Professions Institute this summer, from July 26 to Aug. 1 for rising high school sophomores, juniors, and seniors who are interested in careers in the sciences. 
The Health Professions Institute is a weeklong program for high school students to learn more about different careers in the health care industry. Within that time, students will learn a variety of science skills as well as gain some college experience.  
Assistant dean of admissions Alisha Boerstler says students will do lab work that includes activities such as pipetting and DNA sequencing. In addition to the hands-on work, Boerstler also said that students will learn about other health-related topics such as "the human genome, how gut bacteria affects health, how neurons allow us to move, and how the zip code that you live in affects your access to health care." 
Boerstler also talked about the college-life lessons that the institute teaches as well.
"Students will learn what it is like to have a residential college experience from the classroom, to the dining hall, to the residence halls," says Boerstler. "This gives high school students the chance to see what it's like to be a residential college student so they feel more comfortable when they go off to college."
At the end of the week, students will present the knowledge that they have learned to their parents and some Juniata staff.  
It is not necessary for participants to have experience in health professions fields; however it is encouraged that high school students have a good scientific foundation. For more information or to register for the College's Health Professions Institute, please visit www.juniata.edu/healthinstitute. 
--Written by Samuel Reid '23--
Contact April Feagley at feaglea@juniata.edu or (814) 641-3131 for more information.