Bailey Oratorical Winner DesFosses Strives to 'Find the Space Between Boxes'
(Posted March 13, 2020)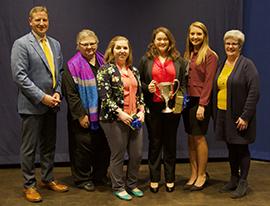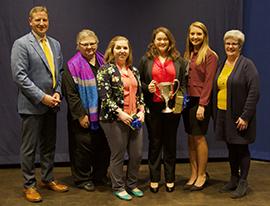 HUNTINGDON, Pa. — Rachel DesFosses, a junior from Orland, Maine, studying professional writing with marketing, was awarded first place in Juniata College's 110th Bailey Oratorical competition March 3.
The annual event is designed to celebrate student voices and their power to make change. This year, seven finalists were challenged to answer what it means to be counted, or not, with the prompt, "Be Counted: Census 2020."
"Many ask what the criteria the judges use," said Donna Weimer, Thornbury Professor of Communication and chair of the Communication and Theatre Arts Department. "In brief, the speeches are persuasive in intent. In six to eight minutes, these finalists will invite you to share their point of view. Their overall residual message must be clear and they must support it with organization, a clear line of reasoning, and a variety of evidence."
DesFosses shared her own personal experiences being categorized in "boxes," both literally and figuratively because of her mixed ethnic background. Selecting just one box on college, census, or financial aid forms, provides an incomplete picture of who she is, while selecting "other" negates her inclusion at all. 
"Institutions don't see who I really am," she said. "They only see me as 'other.' With one box, I joined the outcasts and joined the 'other.' With one word and one box, I unwittingly chose to be uncounted."
Referencing figurative boxes, both self-identification and the viewpoint of others, DesFosses described feeling as if she had to choose a single classification, "denying myself the space between boxes."
DesFosses' persuasive speech earned her the $1,000 grand prize and the People's Choice Award, a text-to-vote poll where audience members choose their favorite speech. 
In second place, winning the $500 award was Madison Troha, a senior from Huntingdon, Pa., studying organizational communication and leadership. In third place, winning the $300 award was Lara Sharpless, a senior from Sandy Ridge, Pa., who studies visual and performing arts.
Other contestants included Taylor Hallabuk, a senior from Towanda, Pa., studying strategic communication; Catherine Lanigan, a senior from Boonton, N.J., studying strategic communication; Sierra Nawalinski, a junior from Downingtown, Pa., studying environmental science and education; and Logan Peachey, a junior from Reedsville, Pa., studying biochemistry.
This year's judges included Annette Kane-Shine '93, who is an independent human resources consultant and executive coach; Parisha P. Shah '01, senior research investigator and instructor in the Departments of Medicine and Cell and Developmental Biology at the University of Pennsylvania Perelman School of Medicine; and Erin Strine '04, former Bailey Oratorical finalist and senior market research consultant at Sage Age Strategies, a strategic marketing and consulting firm focusing on the senior living industry. 
The original Bailey Oratorical Award was established in 1910 by Letitia Fisher Bailey and the Honorable Thomas F. Bailey, who served as president judge of Huntingdon County from 1916 to 1936. The contest is named in honor of John M. Bailey, the father of Thomas Bailey, and a former Huntingdon County president judge.
The oratorical contest has a long tradition at Juniata College, as students from all areas of study can compete for the monetary prize. The original prizes for the contest were $15 and $25. An enhanced endowment contribution by Judge Bailey's son-in-law, Colonel Sedgley Thornbury, provides the contest's prize money. In addition, the name of the winner will be permanently inscribed on an antique-loving cup presented to the College by Colonel Thornbury's son, Thomas Bailey Thornbury.
Contact April Feagley at feaglea@juniata.edu or (814) 641-3131 for more information.