Presidential Scholarship Semifinalist Among Juniata's Class of 2024
(Posted July 8, 2020)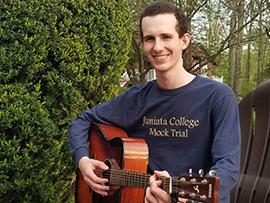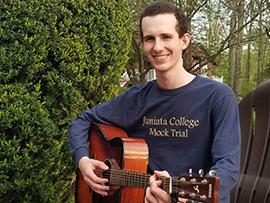 HUNTINGDON, Pa. — Among the members of the Class of 2024 welcomed to Juniata College is U.S. Presidential Scholar Semifinalist Dan Cummins Jr. of Clarks Summit, Pennsylvania, a 2020 graduate of Abington Heights High School. 
"I am thrilled to be able to represent Juniata College as an incoming student," said Cummins. "I would like to extend my thanks to all of the teachers, community leaders, family, and friends who helped me get to this point, and to the wonderful faculty and staff at Juniata who have already made such a large impact in my life before I have even stepped on campus as a student."
The U.S. Presidential Scholars Program was established by executive order of the President in 1964 to recognize and honor the nation's most distinguished graduating high school seniors. 
Each year, 4,500 of the nation's roughly 3.6 million graduating high school seniors are selected for this program based on exceptional scoring on the nationwide ACT and SAT tests, of that number, only 600 are chosen to become semifinalists. Semifinalists are based on the supplementary application. A total of 161 students are ultimately selected to represent their states as U.S. Presidential Scholars. Cummins is proud to represent Lackawanna County. 
Having competed on his high school Mock Trial team for four years, three of which he served as team captain, Cummins looks forward to competing at the collegiate level at Juniata. 
"Mock Trial provides a singular opportunity for students to develop their skills in interpersonal communication, thinking on their feet, public speaking, argument, analysis, writing, and critical thinking, among other important skills," he said. "I have found Mock Trial to be a perfect place to find engaging work that brings together all of my varied interests into an ever-changing argumentative structure that never gets boring."
"We are thrilled to have Dan join our nationally-ranked Mock Trial Team," said David Andrews, Juniata's Mock Trial Coach, General Counsel, and Professor. "Dan was an outstanding High School Mock Trial Attorney, and received Outstanding Attorney Awards at numerous High School Trial Competitions, including the prestigious University of Pennsylvania Tournament."
Cummins was drawn to Juniata's individualized educational approach and unique sense of community. 
"I greatly value kindness toward others and connectedness, and each individual I met at Juniata smiled, waved, and gave a greeting, which made a huge difference in my decision process," he said. "Even the school's staff, administration, and faculty were incredibly nice, and I just felt so happy among everyone on campus."
Contact April Feagley at feaglea@juniata.edu or (814) 641-3131 for more information.