Juniata Community to Observe 9/11 Day of Service and Remembrance
(Posted September 9, 2020)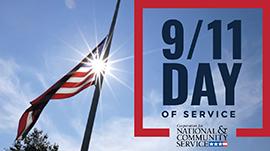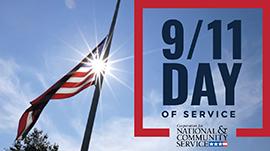 HUNTINGDON, Pa. — The Juniata College Office of Community Engagement will host observances of the 9/11 Day of Service and Remembrance, marking the tragic anniversary of the 2001 terrorist attacks. 
  "As we reflect on this moment in history, we will honor the victims, first responders, and citizens who stood up to serve our nation through military service," said Sarah Worley, associate professor of communication and director of community-engaged teaching and learning. "Our observance will include tributes, memorial services, and volunteer service."
Sept. 11 is designated by the federal government as both Patriot Day and a National Day of Service and Remembrance. As such, Americans are encouraged to volunteer within their communities in honor of those who lost their lives in the attacks, first responders, and those who have risen in service to defend freedom. 
Juniata's observance is aimed at both remembrance and education. To honor the lives of those lost on 9/11, 2,977 butterfly ornaments will be placed on the quad, where the time of each planes' impact will be marked. 
A brief memorial service will be held at 8:46 a.m., the moment American Airlines Flight 11 struck the North Tower of the World Trade Center in New York City, NY. The service will open with trumpetist Martin Keeney playing "Peace, Be Still," followed by a moment of reflection and silent prayer led by campus chaplain, the Rev. Cindy Lattimer, and Lisa Baer, coordinator of campus ministries. Campus community members' memories of Sept. 11, 2001, will be shared in a video as well. 
Whether on campus or not, the Juniata community is asked to participate in the "Do Good Challenge," by performing acts of service on campus, writing notes of encouragement to be attached to the butterfly decorations, or to log onto https://www.dosomething.org/us to aid in the cause of their choice. The butterflies with notes attached will be delivered to the residents of Westminster Woods, AristaCare at Huntingdon Park, and Shirley Home for the Aged, and to recipients of Meals on Wheels. 
Contact April Feagley at feaglea@juniata.edu or (814) 641-3131 for more information.