Juniata College Ranked in Top 100 Colleges U.S. News Ranking
(Posted September 14, 2020)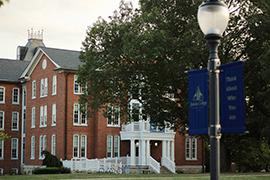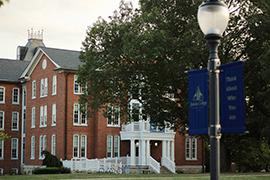 HUNTINGDON, Pa. — Juniata College has once again been ranked in the top 100 in the annual ranking compiled by the web-based news publication U.S. News & World Report.
Juniata was ranked 84th in the 2021 rankings of the best liberal arts colleges in the nation. 
"Each year, we are included with the very best colleges in the United States, regardless of the methodology used to compute the ranking," says James A. Troha, president of Juniata College. "When I consider what our faculty and staff do to create the student experience we offer, I am not surprised to be in such company."
Washington Monthly magazine ranked Juniata College at 73rd for 2020 and has been named as one of the best colleges in the nation by the Princeton Review. 
"Our students choose Juniata for our commitment to their personal growth and intellectual development. They discover a community of partners who support them as they magnify their interests and talents," Troha said. "These are traits which have been present from our founding in 1876, and which earned us recognition as one of the 40 colleges featured in 'Colleges That Change Lives.'"
According to guidelines established by the Carnegie Foundation and adopted by U.S. News, institutions that award at least 50 percent of their undergraduate degrees in liberal arts are defined as liberal arts schools.
The U.S. News details its methodology for compiling the annual rankings at www.usnews.com/education/best-colleges/articles/rankings-methodologies.
Juniata is one of only 12 liberal arts colleges in Pennsylvania to be ranked in the top 100 nationally. Other Pennsylvania colleges in the U.S. News Top 100 are Swarthmore College (3rd); Haverford College (15th); Bryn Mawr College (28th); Bucknell University (34th); Lafayette College (40th), Franklin & Marshall College (43rd); Dickinson College (47th); Gettysburg College (54rd); Muhlenberg College (72nd); Allegheny College (80th); Ursinus College (84th); and Washington and Jefferson (96th).
The U.S. News list is the most anticipated ranking of higher education and signals the height of what some higher education watchers call "rankings season."  None of the rankings systems are totally comprehensive; more than 4,000 colleges and universities operate in the United States and only the very best, the top 10 to 20 percent, are ranked by the majority of ranking systems. The United States is home to more than 500 private liberal arts colleges, placing Juniata among the top fifth of such institutions nationally. 
Contact April Feagley at feaglea@juniata.edu or (814) 641-3131 for more information.