Juniata's Mock Trial Team Lands in Top Five During First Invitational of Season
(Posted October 5, 2020)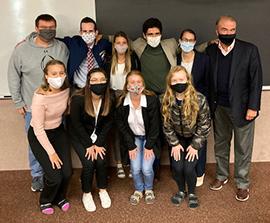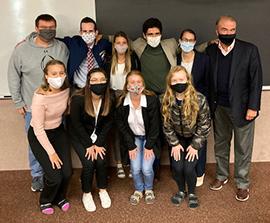 HUNTINGDON— Juniata College's Mock Trial team came out of the first tournament of the season in the top five of the 13th Annual Happy Valley Invitational this weekend. 
Hosted by the Penn State University Mock Trial Team, the tournament was held in a virtual format Oct. 2-4 over Zoom. 
"This tournament is invitation only and only invites teams that have gone on to Nationals each of the two previous years," said the team's coach Dave Andrews '74. "This was the first virtual tournament of the Mock Trial season." We have competed in tournaments against some of the toughest opponents in the country this season. Once again, Juniata Mock Trial proves it is among the elite of the country's Mock Trial programs."
Juniata's team was joined in the top five by two teams from the University of California at Berkeley, the team from the University of Chicago, and the team from Vanderbilt University. 
At the beginning of the season, each team receives a binder of discovery for the case they will try during their competitions. This season's case is a twisted web of winery intrigue resulting in a wrongful death suit. A winery owner hosts a wedding rehearsal dinner for their beloved only child and heir apparent. The knowledge that their child is about to be whisked away to France after the wedding, paired with the intense dislike of their chosen partner allegedly drives the winery owner to lace a "special" bottle of wine with pesticides used in the vineyard. This bottle is gifted to the spouse-to-be with the admonition to imbibe it in private, which they do shortly before their untimely death. In the suit for financial damages, the jury must decide whether it was an excessively high blood alcohol rate or the pesticide that killed the unwanted in-law. 
In competition, each team tries the case four times, twice as prosecution and twice as defense. All of the teams are given the same information and witnesses must stick to the affidavit provided, but the ways different teams interpret the information highlight and challenge each member's ability to adapt, problem-solve, and think on their feet. 
The Juniata Mock Trial Team will next compete in the Wake Forest Mock Trial Tournament Oct. 17-18.
Contact April Feagley at feaglea@juniata.edu or (814) 641-3131 for more information.