Annual Empty Bowls Event to Aid County Food Programs
(Posted October 6, 2020)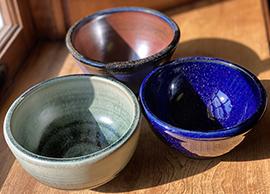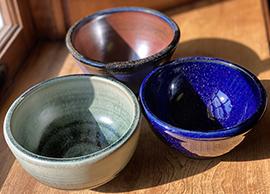 HUNTINGDON, Pa.—Now in its 14th year, Juniata College's Empty Bowls event is set to fulfill its annual mission to combat hunger by raising money for Huntingdon County's four food banks and Huntingdon Area elementary schools' Backpack Program. 
This year's Empty Bowls will take on a different format due to COVID-19, but the pandemic has made its purpose more important than ever. This year, the theme is "The Soup's on You." Bowls will be available for purchase online Sunday, Oct. 25, through Saturday, Oct. 31, for $15, $13 for seniors/students (ID required at pick-up). Information about the event and where to shop can be found at https://www.facebook.com/events/340636517212062. Drive through pick up will be available Saturday, Nov. 7, in the parking lot behind Good Hall. 
"Empty Bowls is hosted by faculty, staff, and students and benefits countless Huntingdon County residents who are food insecure," said Bethany Benson, chair of the Art and Art History Department at Juniata. "In the past 13 years, Empty Bowls has raised over $65,000 for area food banks; this year, the demand on our food banks, pantries, and backpack programs is greater than ever before."
The event is organized by Benson, Robert Boryk an instructor of art and art history, Lisa Baer, the Unity House coordinator, Jennifer Troha, and Lorri Shideler, director of Conferences and Events, assisted by students enrolled in the Empty Bowls Practicum course and volunteers from both the Juniata and Huntingdon communities. 
October is World Hunger Awareness Month. According to the United States Department of Agriculture, one in six children in the United States (18 percent) live in food-insecure households. Food insecurity is defined as not having consistent access to enough food for an active, healthy life. Data collected by FeedingAmerica.org in 2018 indicates Huntingdon County's food insecurity rate for children is 18.8 percent, with approximately 1,580 minor county residents affected. Food insecurity has the potential to be harmful to individuals of any age, but can be especially devastating to children. 
All proceeds from Empty Bowls go directly to the beneficiary organizations. The bowls made for the event were created by students enrolled in Empty Bowls Practicum, faculty, and friends of Juniata College. 
Contact April Feagley at feaglea@juniata.edu or (814) 641-3131 for more information.