More in Four Possible Through Juniata's Accelerated Dual-Degree Program
(Posted October 22, 2020)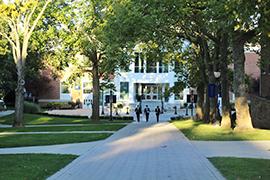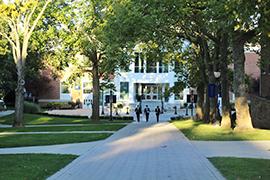 HUNTINGDON, Pa. — Juniata College will launch an accelerated bachelor's to master's pathway to enable business students to complete a three-year bachelor's degree program, then continue on to complete a one-year master's degree in business administration (MBA). 
"In designing the business curriculum at both the undergraduate and MBA programs, we have combined academic training and experiential learning opportunities to cultivate well-rounded business professionals," said Wei-Chung Wang, associate professor of business and economics. "We also have clinical professors in our MBA program who have had heavy-lifting industry experiences to share the latest information."
This dual-degree program is uniquely positioned to equip students to meet the challenges of today's global business world. Traditionally a six-year track, this accelerated program enables students to take five to six classes per semester, with each academic year consisting of three semesters. 
Juniata's MBA degree will focus on developing students' technical expertise in the areas of accounting, finance, marketing, economics, human resource management, and operations management. The program will include international business study, project management, and consulting experience and executive mentors who will partner with students during their academic journey. Courses are offered online and in-person. 
Juniata's accelerated dual degree program provides students with a high-quality education, offering savings on tuition cost by reducing the time needed to achieve two degrees. Those enrolled in the program have access to professors with Big-4 consulting experiences and career-building opportunities and are inducted into the Junior Tau Pi Phi Honor Society, a national honor society for business students, once matriculated. 
The National Center of Education Statistics indicates business master's degrees make up nearly 25 percent of all master's degrees awarded with over 185,000 earned in 2014-2015. In 2017, over a quarter-million people took the GMAT suggesting strong future interest in MBA programs. Many prospective graduate students consider the wage premium associated with particular master's degrees, which indicates the difference between the earnings of workers holding bachelor's degrees compared to the earnings of workers holding master's degrees in the same occupation category. In 2015, the Bureau of Labor Statistics founds wage premiums in business occupations ranged from 36 to 89 percent. By comparison, STEM occupations ranged from 18 to 33 percent, and education ranged from 14 to 44 percent.
To qualify for admission to the accelerated dual degree program, most qualified candidates will demonstrate a 3.5 (on a 4.0 scale) high school GPA or equivalent or rank in the top 20 percent of their high school class. 
For more information, contact Dr. Wei-Chung Wang, associate professor of business and economics, associate provost for academic initiatives, and director of Global Program Development, at wangw@juniata.edu.
Contact April Feagley at feaglea@juniata.edu or (814) 641-3131 for more information.