'Legal Eagles' Take Top Spot at Invitational Mock Trial Tournament
(Posted November 16, 2020)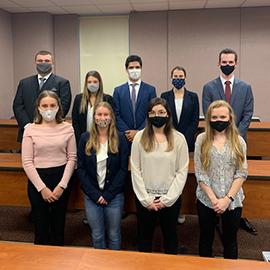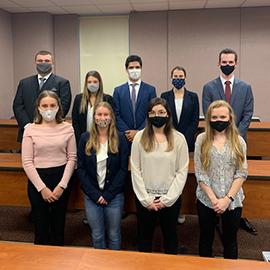 HUNTINGDON— Juniata College's Mock Trial team earned first place at the Carnegie Mellon University Swear Me In Scotty Invitational Tournament this weekend. 
Hosted by the Carnegie Mellon University Mock Trial Team, the tournament was held in a virtual format Nov. 14-15 over Zoom. 
"I am extremely proud of our team that has once again established itself as a national power in Collegiate Mock Trial," said the team's coach Dave Andrews '74. "These students work so hard. They eat and breathe mock trial and deserve this recognition."
Team captain Meadow Walshaw-Wertz was recognized as Outstanding Attorney on both sides of the case, plaintiff and defense. Walshaw-Wertz, who serves on the American Mock Trial Association Student Advisory Board, was the only attorney to earn this unique recognition. 
This weekend's tournament featured 28 teams from across the nation. Over the course of four trials Saturday and Sunday, Juniata's team defeated those from Brandeis University, Case Western University, the University of Delaware, and the University of Pittsburgh. The tournament included teams from the University of Oregon, Massachusetts Institute of Technology (MIT), Penn State, Franklin and Marshall, Dickinson College, Wellesley, and Michigan State. 
At the beginning of the season, each team receives a binder of discovery for the case they will try during their competitions. This season's case is a twisted web of winery intrigue resulting in a wrongful death suit. A winery owner hosts a wedding rehearsal dinner for their beloved only child and heir apparent. The knowledge that their child is about to be whisked away to France after the wedding, paired with the intense dislike of their chosen partner allegedly drives the winery owner to lace a "special" bottle of wine with pesticides used in the vineyard. This bottle is gifted to the spouse-to-be with the admonition to imbibe it in private, which they do shortly before their untimely death. In the suit for financial damages, the jury must decide whether it was an excessively high blood alcohol rate or the pesticide that killed the unwanted in-law. 
In competition, each team tries the case four times, twice as plaintiff and twice as defense. All of the teams are given the same information and witnesses must stick to the affidavit provided, but the ways different teams interpret the information highlight and challenge each member's ability to adapt, problem-solve, and think on their feet. 
Juniata Mock Trial has been in existence for three years and has advanced to the national playoffs each year, earning a national ranking.
Contact April Feagley at feaglea@juniata.edu or (814) 641-3131 for more information.