Bailey Oratorical Student Competitors to Glean Lessons From 2020
(Posted February 24, 2021)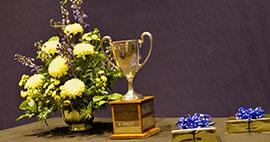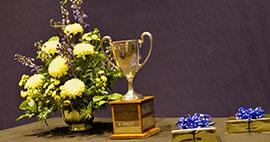 HUNTINGDON, Pa. – The Bailey Oratorical speech competition, a campus tradition that annually draws thoughtful and poignant discourse from Juniata students, will begin live-streaming at 7:30 p.m. Tuesday, March 2. 
This year, the prompt for speeches is, "What Did We Learn From the Challenges of 2020 That We Can Use in the Future." 
Established in 1910, the Bailey Oratorical encourages students from all areas of study to present six to eight-minute persuasive speeches on a topic that changes annually. This year's prompt was inspired by the global COVID-19 pandemic and the ensuing quarantines, lock-downs, and cultural shifts; ongoing issues surrounding social justice; political upheaval; and many other aspects of life in 2020. 
Students first sign up for preliminary rounds of the competition, which took place on February 20. For this first round, three Juniata alumni returned to campus to act as judges. Allison Goulden '19, Stephanie Njeru '17, and Haley Schneider '15 had the responsibility of choosing the seven finalists of the competition. The finalists are Elizabeth Bailey '23, Rohan Bandekar '22, Molly Harris '21, Brandie Ray '23, Olivia Simmons '22, Jules Slater '21, and Lucas Wertheimer '22.
Student finalists who advance to the final round are coached by faculty mentors to polish content and deliver their speeches in preparation for the final round of the competition.
Judges for the final competition include Johanna Holtan '04, who has spent nearly 20 years designing and building programs and businesses for social good; Davon Jackson '17, who uses the skills he learned in Grace Fala's and Donna Weimer's public classes in his work as an orthopedic trauma sales consultant; and Joshua Scacco '08, who is an associate professor of communication at the University of South Florida. 
The competition, which will be streamed live via Zoom, features prizes of $1,000, $500, and $300 for the top three speeches. Audience members are encouraged to participate in a text-to-vote poll for the People's Choice Award. To view the competition online, visit https://juniata.zoom.us/j/94486185552?pwd=d1dGWCtrTFhwZmtwNXZ5eVVNYkN5Zz09 and enter the passcode: 983997. A recording of the event will be available for viewing within 24 hours of the event's conclusion on the Juniata College YouTube Channel: https://www.youtube.com/juniatacollege.   
The original Bailey Oratorical Award was established in 1910 by Letitia Fisher Bailey and the Honorable Thomas F. Bailey, who served as president judge of Huntingdon County from 1916 to 1936. The contest is named in honor of John M. Bailey, the father of Thomas Bailey, and a former Huntingdon County president judge.
The oratorical contest has a long tradition at Juniata College, as students from all areas of study can compete for the monetary prize. The original prize for the contest was $15 and $25. An enhanced endowment contribution by Judge Bailey's son-in-law Colonel Sedgley Thornbury provides the contest's prize money. In addition, the name of the winner will be permanently inscribed on an antique loving cup presented to the college by Colonel Thornbury's son, Thomas Bailey Thornbury.
Contact April Feagley at feaglea@juniata.edu or (814) 641-3131 for more information.