Bailey Oratorical Winner Slater Finds Inspiration in 'Angriest Year Ever
(Posted March 3, 2021)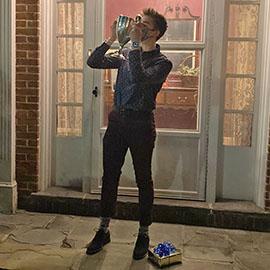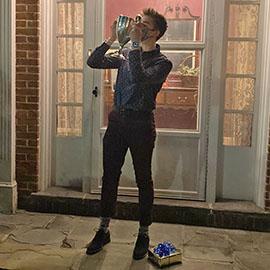 HUNTINGDON, Pa. — Jules Slater, a senior from Pittsburgh, Pennsylvania, studying advocacy communication, was awarded first place in Juniata College's 111th Bailey Oratorical competition March 2.
The annual event is designed to celebrate student voices and their power to make change. This year, seven finalists were challenged to answer, "What Did We Learn From the Challenges of 2020 That We Can Use in the Future." 
In answering a frequent question, what criteria do the judges use, Donna Weimer, Thornbury Professor of Communication and chair of the Communication and Theatre Arts Department noted, "In brief, the speeches are persuasive in intent. In six to eight minutes, these finalists will invite you to share their point of view. Their overall residual message must be clear and they must support it with organization, a clear line of reasoning, and a variety of evidence."
Slater shared their own personal experiences living during the "angriest year ever." The woeful inadequacy of the admonishment to focus on the good and ignore anger was more apparent than ever during a year filled with global pandemic, political unrest, and social injustice. 
Slater argued, "The COVID-19 pandemic was something that seemed to underlie our every action in 2020 no matter where in the world we were, whether you were frustrated every day because it was unsafe to hug your family and friends, or you couldn't hold the hands of your loved ones as they passed, disease altered our world." 
Citing positive  changes spurred by pervasive productive anger, Slater described the work to develop and authorize vaccines, innovation in science and medicine, and even new ways of spreading public health knowledge. 
Slater's persuasive speech earned them the $1,000 grand prize and the honor of having their name inscribed on the historic Bailey Oratorical loving cup. 
In second place, winning the $500 award was Brandie Ray, a junior from Tyrone, Pa., who is studying biochemistry. In third place, winning the $300 award was Elizabeth Bailey, a junior from Bowie, Md., who is studying wildlife conservation.
Rohan Bandekar, a senior from India studying Integrated Media Marketing, won the People's Choice Award, a text-to-vote poll where audience members choose their favorite speech. 
Other contestants included Molly Harris, a senior from Tyrone, Pa., studying philosophical history, Olivia Simmons, a junior from Washington, D.C., studying social work, and Lucas Wertheimer, a junior from Potomac, Md., studying multimedia communication. 
This year's judges included Johanna Holtan '04, who has spent nearly 20 years designing and building programs and businesses for social good; Davon Jackson '17, who uses the skills he learned in Grace Fala's and Donna Weimer's public classes in his work as an orthopedic trauma sales consultant; and Joshua Scacco '08, who is an associate professor of communication at the University of South Florida. 
The original Bailey Oratorical Award was established in 1910 by Letitia Fisher Bailey and the Honorable Thomas F. Bailey, who served as president judge of Huntingdon County from 1916 to 1936. The contest is named in honor of John M. Bailey, the father of Thomas Bailey, and a former Huntingdon County president judge.
The oratorical contest has a long tradition at Juniata College, as students from all areas of study can compete for the monetary prize. The original prizes for the contest were $15 and then $25. An enhanced endowment contribution by Judge Bailey's son-in-law, Colonel Sedgley Thornbury, provides the contest's prize money. In addition, the name of the winner will be permanently inscribed on an antique-loving cup presented to the College by Colonel Thornbury's son, Thomas Bailey Thornbury.
A recording of the event can be viewed on the Juniata College YouTube Channel: 
Contact April Feagley at feaglea@juniata.edu or (814) 641-3131 for more information.