Juniata College student honored as Newman Civic Fellow
(Posted March 12, 2021)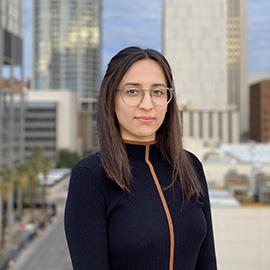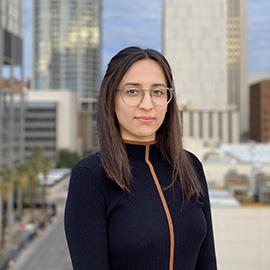 HUNTINGDON, Pa. – Campus Compact, a Boston-based non-profit organization working to advance the public purposes of higher education, has announced the 212 students who will make up the organization's 2021-2022 cohort of Newman Civic Fellows. Yamilex Lopez, a junior at Juniata College, will join students from 39 states, Washington, D.C., and Mexico to form the 2021 cohort.
The Newman Civic Fellowship is a year-long program for students from Campus Compact member institutions. The students selected for the fellowship are leaders on their campuses who demonstrate a commitment to finding solutions for challenges facing communities locally, nationally, and internationally.
"Community service was ingrained in my life at a very early age. Being a Mexican-American, I was always surrounded by people who were committed to supporting one another," said Yamilex. "I learned that community develops you as a person. Community service is a reminder that we are all human and need help at times. I wouldn't be where I am now without the service of others. I hope to be that special person for others as I continue my career in politics."
Yamilex has volunteered for political campaigns in both Pennsylvania and her home state of Arizona. She studies politics and encourages others to work to advocate for themselves and for others. 
The fellowship is named for the late Frank Newman, one of Campus Compact's founders, who was a tireless advocate for civic engagement in higher education. In the spirit of Dr. Newman's leadership, Campus Compact member presidents and chancellors nominate student leaders from their campuses to be named Newman Civic Fellows.
"Yamilex is very passionate about sharing her voice and being a voice for others. Her activism has its roots in her Mexican-American heritage, her desire to help her fellow Americans, and her yearning for justice in a diverse society," said Juniata College President James A. Troha. "She was an intern for the Biden campaign this fall, where she connected with Americans of different communities throughout northeastern Pennsylvanian. Her internship became such a momentous experience that she hopes to continue field organizing immediately after graduation." 
Through the fellowship, Campus Compact provides Fellows with a variety of learning and networking opportunities that emphasize personal, professional, and civic growth. Each year, fellows participate in numerous virtual training and networking opportunities to help provide them with the skills and connections they need to create large-scale positive change. The cornerstone of the fellowship is the Annual Convening of Fellows, which offers intensive skill-building and networking over the course of two days. The fellowship also provides fellows with pathways to apply for exclusive scholarship and post-graduate opportunities.
"We are proud to recognize these extraordinary student leaders and thrilled to engage with them," said Campus Compact President Andrew Seligsohn. "The experience of the last year has driven home to all of us that we need open-minded, innovative, public-spirited thinkers and doers. That is what Campus Compact is about, and the stories of our Newman Civic Fellows demonstrate it's who they are."
Learn more at compact.org/newman-civic-fellowship. You can read more about each of the student leaders selected for this year's cohort at compact.org/newman-civic-fellowship/2021-2022-newman-civic-fellows.
###
Campus Compact is a national coalition of colleges and universities committed to the public purposes of higher education. Campus Compact supports institutions in fulfilling their public purposes by deepening their ability to improve community life and to educate students for civic and social responsibility. As the largest national higher education association dedicated solely to campus-based civic engagement, we provide professional development to administrators and faculty to enable them to engage effectively, facilitate national partnerships connecting campuses with key issues in their local communities, build pilot programs to test and refine promising models in engaged teaching and scholarship, celebrate and cultivate student civic leadership, and convene higher education institutions and partners beyond higher education to share knowledge and develop collective capacity. Visit www.compact.org.
Contact April Feagley at feaglea@juniata.edu or (814) 641-3131 for more information.