Juniata's Mock Trial Team Wraps Up Successful Season
(Posted April 9, 2021)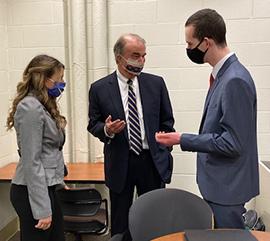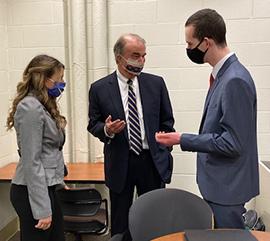 HUNTINGDON— Juniata College's Mock Trial team concluded a very successful season recently, establishing their prowess as a nationally-ranked competitor.
Led by their coach, Attorney David Andrews '74, the members of the team have advanced to the National Playoffs each of the three years the team has been in existence. 
"Juniata Mock Trial has distinguished itself on a national level with a National Ranking," Andrews said. "We have achieved our success with playing large Division One schools since there are no distinctions between school sizes in Mock Trial."
The team came within one trial of advancing to the 2021 National Championship. Juniata defeated Cornell University in the playoffs but lost a 2-1 decision to the University of Michigan, which advanced to the National Championship. 
During this season, the Juniata Team took first place at the Carnegie-Mellon University Tournament and earned Top Five honors at the Happy Valley Invitational at Penn State and the University of California at Berkeley. In advancing out of its Regional Playoffs, the team defeated Baylor University, the University of Southern California, and the University of Arizona.
This season, the case tried by the competing teams was a wrongful death suit filled with complicated interpersonal relationships and intrigue. Each team received a binder of discovery, containing all of the evidence they need to build their case, whether for the plaintiff or for the defendant. In competition, each team tries the case four times, twice for each side. All teams are given the same information, and witnesses must stick to the affidavit provided, but the ways different teams interpret the information highlights and challenges the team members' ability to adapt, problem-solve, and think on their feet. 
Team members include Kyle Boyer '24 of Lewistown, Pa., Sarah Cook '24 of State College, Pa., Daniel Cummins '24 of Clarks Summit, Pa., Nattie Daversa '23, Courtney Frye '21, Vidal Glassman '21 of Seattle, Wa., Quinton Ioime '24 of Hamden, Ct., Mitch Jellen '21 of Souderton, Pa., Fiona Skinner '21 of Camp Hill, Pa., and Meadow Walshaw-Wertz '21 of Sunbury, Pa.
Contact April Feagley at feaglea@juniata.edu or (814) 641-3131 for more information.