Juniata Honors Faculty With Distinguished Teaching Awards
(Posted May 17, 2021)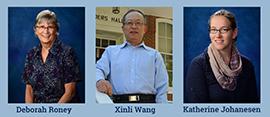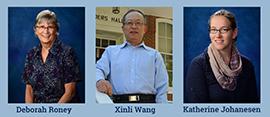 HUNTINGDON, Pa. -- Three Juniata College faculty members were honored with distinguished teaching and service awards. Honored for their work were Katherine Johanesen, assistant professor of geology; Deborah Roney, assistant professor of English and director of Language in Motion; and Xinli Wang, professor and chair of Philosophy. 
Roney was honored with the 32nd annual Beachley Award for Distinguished Academic Service, and Wang was named the 54th recipient of the Beachley Award for Distinguished Teaching. Johanesen received the Henry '57 and Joan Gibbel Award for Distinguished Teaching (for faculty members with fewer than six years of service.) Roney, Wang, and Johanesen are all residents of Huntingdon, Pa. 
Nominations for the awards are received from students, faculty, administrative personnel, alumni, and trustees. The college president, the provost, the student government president, and the three most recent recipients of the award make the final selections.
The last three Distinguished Teaching Award recipients were Russell Shelley, chair of the Department of Music and the Elma Stine Heckler Professor of Music (2020); James Tuten, Professor of History(2019); and John Bukowski, Professor of Mathematics (2018). The first academic service award was presented in 1989 to the late Mary Ruth Linton, professor emerita of music. Last year's recipient was Robert Miller, Rosenberger Professor of Christian and Religious Studies and chair of Religious Studies. The recipient of the 2020 Gibbel Award for Distinguished Performance was Kristin Camenga, Associate Professor of Mathematics.
Wang came to Juniata in 1999 from Trinity College in Hartford, Connecticut, where he was a visiting professor. He earned a doctorate in philosophy at the University of Connecticut, a master's degree in philosophy at Huazhong University of Science and Technology, and a bachelor's degree in geophysics at the Changchun Institute of Geology. 
He is recognized by his students for his enthusiasm and his genuine interest in their lives. Many have commented on his ability to make material that would otherwise be considered "dry or opaque" accessible and exciting. Wang is known for his quick wit and for his commitment to mentoring many international students at Juniata, creating a sense of community. 
Roney joined the Juniata faculty in 1998, and in addition to her role as a faculty member, is the director of Language in Motion, a community engaged learning program affording international students and students returning from study to reflect on those experiences in local K-12 classrooms. She earned a doctorate in Slavic linguistics and foreign language education and a master's degree in Slavic languages and literatures from Ohio State University, and a bachelor's degree in Russian from Darmouth College. She is also an active member of the American Association of University Women (AAUW) Huntingdon chapter. She was recognized for her dedicated service to both of those programs. In addition, she has advised numerous Fulbright Fellowship recipients and is an editor of Juniata Voices demonstrating the power of dedicated service to the community and the college. 
Johanesen joined the Juniata faculty in 2015 from SUNY Fredonia. She earned her doctorate from the University of Southern California and her bachelor's degree from Beloit College in Wisconsin. 
She is well-known as an instructor who relies upon active learning as her teaching methodology and who routinely provides field research opportunities to her students. Johanesen is currently involved in work using virtual reality to develop special reasoning skills. She helped lead the effort to redesign the College's General Education requirements chairing the General Education Committee for the past two years. In this work and in all she does, she considers what will best help students learn. Students praise her accessibility and her genuine desire for them to succeed. 
These annual awards are an opportunity to recognize and appreciate the collective work of faculty and to honor the ways in which they advance the mission of the liberal arts. Faculty members are integral in providing an engaging personalized educational experience, empowering students to develop the skills, knowledge, and values that lead to a fulfilling life of service and ethical leadership in the global community. 
Contact April Feagley at feaglea@juniata.edu or (814) 641-3131 for more information.