Juniata Student Awarded Finnegan Fellowship
(Posted May 25, 2021)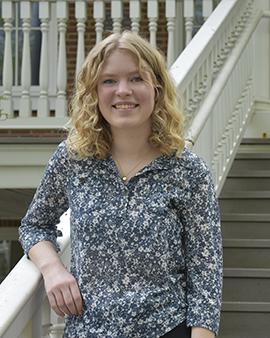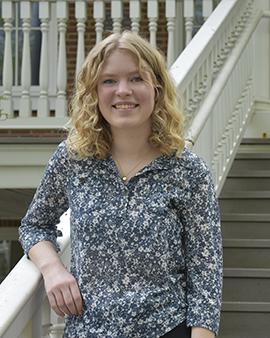 HUNTINGDON, Pa. – Isabel Kruse, a Juniata College sophomore from Huntingdon, Pa., who studies politics, was recently awarded a $1,000 fellowship from the James A. Finnegan Foundation. 
"The Finnegan Fellowship gives the winning students access to a powerful network of policy makers in Harrisburg and across Pennsylvania," said Emil Nagengast, professor of politics and international studies and Juniata's Finnegan adviser. "It is the most prestigious award affiliated with the Commonwealth. It's designed to fast-track students into the world of public policy making."
The Finnegan Fellowship is extremely competitive and the application is rigorous. Each applicant must write a 10-page public policy research paper. 
"Professor Nagengast sent out an email over winter break to all of the students from his fall Introduction to International Politics class," said Kruse. "In the email, he described the fellowship to us and encouraged all of us to apply."
Kruse then visited the Finnegan Foundation's website and was intrigued by the careers former interns had embarked upon and the prospect of meeting politicians and staff. She knew the Finnegan Fellowship would expand her options for her future career path and increase her knowledge of government work. 
Nagengast assisted Kruse with editing her application, and along with Shannon Cotrell, instructor of College Writing Seminar wrote a letter of recommendation to the Finnegan Foundation. 
"Without Professor Nagengast's help, I would not have won a Finnegan award," said Kruse. "I'm very grateful for his help in editing my paper."
Traditionally, Finnegan Fellowship winners participate in a 10-week, paid internship with an executive agency over the summer. However, due to COVID-19, internships have been canceled for 2021. 
Fellowship recipients were chosen by a panel of distinguished judges, under the supervision of the Board of the Finnegan Foundation. Students were judged based on background, civic endeavors, career interests, and a prompted political science essay.
Finnegan Fellowships are named for the late James A. Finnegan, Secretary of Pennsylvania from 1955 to 1958, and other men and women who have made important contributions to the "art of government" in Pennsylvania. The foundation was established in 1960 and fellowships have been awarded ever since.
Contact April Feagley at feaglea@juniata.edu or (814) 641-3131 for more information.