Juniata Student Awarded Finnegan Fellowship
(Posted May 25, 2021)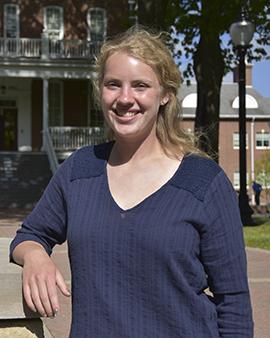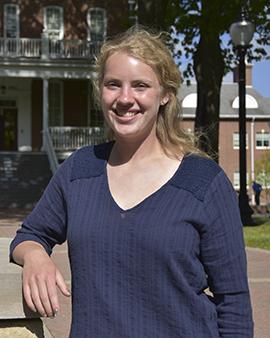 HUNTINGDON, Pa. – Maggie Taylor, a Juniata College junior from Mankato, Minn., who studies international politics was recently awarded a $1,000 fellowship from the James A. Finnegan Foundation. 
"The Finnegan Fellowship gives the winning students access to a powerful network of policy makers in Harrisburg and across Pennsylvania," said Emil Nagengast, professor of politics and international studies and Juniata's Finnegan adviser. "It is the most prestigious award affiliated with the Commonwealth. It's designed to fast-track students into the world of public policy making."
The Finnegan Fellowship is extremely competitive and the application is rigorous. Each applicant must write a 10-page public policy research paper. 
"Professor Nagengast is my adviser. I've taken a class with him every semester since my first year," said Taylor. "Over winter break, he sent an application to the students in his International Politics class and said he thought we would be good applicants."
Taylor hopes to work for the U.S. State Department one day and is considering applying to the Peace Corps or taking a position teaching English abroad. Knowing the Finnegan Fellowship would help her attain those goals, she reviewed the prompt for the essay competition, which asked applicants to consider the impacts COVID-19 had on students making school decisions and on athletes participating in sports. 
"Professor Nagengast helped me edit my paper. He helped a lot," Taylor said. "I think we submitted the essay at the end of January and heard back at the end of March."
Traditionally, Finnegan Fellowship winners participate in a 10-week, paid internship with an executive agency over the summer. However, due to COVID-19, internships have been canceled for 2021. 
Fellowship recipients were chosen by a panel of distinguished judges, under the supervision of the Board of the Finnegan Foundation. Students were judged based on background, civic endeavors, career interests, and a prompted political science essay.
Finnegan Fellowships are named for the late James A. Finnegan, Secretary of Pennsylvania from 1955 to 1958, and other men and women who have made important contributions to the "art of government" in Pennsylvania. The foundation was established in 1960 and fellowships have been awarded ever since.
Contact April Feagley at feaglea@juniata.edu or (814) 641-3131 for more information.