Three Juniata Students Participate in Shepherd Consortium Internships
(Posted June 29, 2021)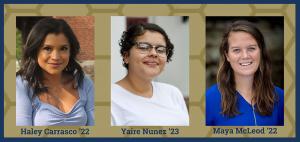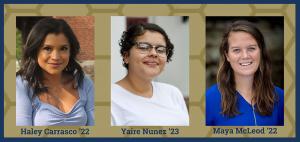 HUNTINGDON, Pa. – Three Juniata College students are participating in internships this summer with the Shepherd Higher Education Consortium on Poverty (SHECP), where they are learning about dimensions of poverty in the U.S. and assisting in the improvement of distressed communities. 
Participants include Haley Carrasco, a senior from Cresco, Pa.; Maya McLeod, a junior from San Diego, Ca.; and Yaire Nunez, a junior from Bronx, NY.
Carrasco will be partnering in person with Triad Health Project in Greensboro, NC, as a clinic and case management intern. 
"During my internship, I will be trained to provide individualized case management services to people who are learning to cope with HIV," said Carrasco. "My responsibilities include determining the needs of clients on a psychosocial level as well as medical care. I will take a proactive role in providing important information, support, and resources needed for patients afflicted with HIV to help them maintain the highest possible quality of life."
She learned about SHECP through the College's career services advertisements and spoke with previous SHECP interns about their experiences with the project. Her adviser, Gabriel Gould, instructor of College Writing Seminar, also encouraged her to apply. 
"During this experience, I would like to see people grow to their fullest extent, allowing me to gain a better understanding of how holistic patient care goes beyond traditional medical needs," Carrasco said. 
McLeod will be working virtually with the Food Bank of South Jersey, located in Pennsauken, NJ. 
"I'll be working within the health and wellness department, assisting with curriculum development and virtual health cooking demonstrations," McLeod said. 
Her advisor, Jill Keeney, Charles A. Dana Professor of Biology, recommended that McLeod consider applying for SHECP. 
"I hope to gain a better understanding of how non-profit organizations are combatting the severe poverty within the United States," said McLeod. "I'm also excited to learn more about nutrition education and how to provide others with cheap and healthy meals."
Nunez will be partnering virtually with the Pearl Rivers County Public Defender's Office, located in Mississippi.
"I'll be working as a research assistant, aiding in data collection and feedback implementation," said Nunez. "Likewise, I will also be allocating my time to aid in other projects or tasks as needed."
She learned about SHECP while taking a Poverty Studies course during the Spring 2020 semester. Her adviser, Kathleen Biddle, professor of education and Chair of Education, encouraged her to apply. 
"I hope to gain more formal experience within the criminal justice system, and learn how to identify and fulfill the needs of underserved communities in sustainable manners," Nunez said.
The SHECP is a non-profit organization, founded in 1998 as the Shepherd Poverty Alliance, that promotes poverty studies programs in undergraduate and professional schools, supports a summer internship program integrated with coursework throughout the academic year, and enriches various areas of study to prepare students for many different professional and civic goals.
In addition to Juniata College, the organization is made of 24 other collegiate institutions: Baylor University, Berea College, Birmingham Southern College, Bucknell University, Centre College, Cleveland Clinic Lerner College, College of Wooster, Elon University, Furman University, Hamilton College, John Carroll University, Manchester University, Marymount University, Middlebury College, Millsaps College, Missouri State University, Niagara University, Ohio University, University of Lynchburg, University of Notre Dame, University of Vermont, University of Wisconsin-Madison, Virginia Military Institute, and Washington & Lee University.
SHECP partners with more than 130 nonprofit and governmental agencies to provide internship opportunities for students. The agencies, located in both urban and rural sites, focus on categories such as education, healthcare, legal services, housing, nutrition, social and economic needs, and community-building efforts. According to SHECP, "students work with agencies that fit their intellectual interests to develop professional experience and skills for future civic involvement and employment."
To learn more about the internship opportunities via the Shepherd Higher Education Consortium on Poverty, visit https://www.shepherdconsortium.org/about-internships.
Contact April Feagley at feaglea@juniata.edu or (814) 641-3131 for more information.