Juniata College Board of Trustees Adds Four New Members
(Posted August 24, 2021)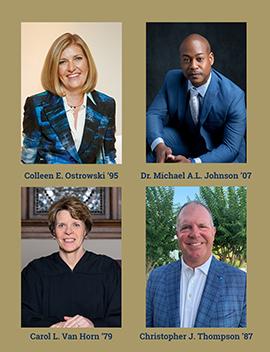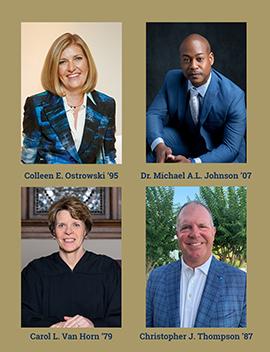 HUNTINGDON, Pa.— The Juniata College board of trustees has added four new members to begin the 2021-2022 academic year. The newly appointed trustees began their service Sept. 1, 2021, for three-year terms.
The new trustees are Carol L. Van Horn, Senior Judge of the Franklin-Fulton County Court of Common Pleas; Christopher J. Thompson, co-founder, and partner of T3 Group, LLC, a boutique management consulting firm; Colleen E. Ostrowski, senior vice president and treasurer at Visa; and Michael A.L. Johnson, a neurologist at Colorado Neurodiagnostics. 
Carol L. Van Horn, of Chambersburg, Pa., earned a bachelor's degree from Juniata College in 1979 magna cum laude and her juris doctor at Dickinson School of Law in 1982. She began her career as a law clerk to Judge John W. Keller in the 39th Judicial District in Franklin County, Pa. Van Horn practiced law in Franklin County for nearly 20 years; as an associate attorney with the firm Maxwell, Maxwell, Dick & Walsh; and as a partner with the firm Walker, Van Horn & MacBride, with a concentration in the areas of domestic relations, real estate, and estate administration.
Van Horn was elected as Judge of Franklin County in 1999, becoming the county's first female judge. She became President Judge in 2015. After two decades on the bench, Van Horn retired to the position of Senior Judge in 2020. 
Christopher J. Thompson, of Media, Pa., is a board member of The First Tee of Greater Philadelphia, a non-profit organization that integrates critical life skills with the game of golf to instill inner strength, self-confidence, and resilience in children. As a student-athlete at Juniata College, he was a varsity letter winner on the Men's Golf Team. 
Thompson earned his bachelor's degree in marketing, with a secondary emphasis in mathematics at Juniata College in 1987. He began his career in business and technology as a sales representative for the New American Computer Corporation and TIE Systems. In 1990, Thompson was a pioneer with his role as an inside sales representative at Vertex, Inc. During his nearly 20 years with the company, he saw revenue grow from $500,000 annually to $10 million. Thompson was co-founder and partner of T3 Group, LLC, a boutique management consulting firm. 
Colleen E. Ostrowski, of San Mateo, Ca., earned her bachelor's degree in international business at Juniata College in 1995 and worked as an enrollment counselor following graduation. She went on to earn her master's degree in business administration at Penn State University in 1999. Ostrowski launched her career in business at Pfizer, Inc., and worked there for 10 years. She worked at ITT and Mylan before becoming senior vice president and treasurer at Visa in 2017. 
In Ostrowski's current role, she is responsible for Visa's Global Treasury and Venture Investments functions including global cash management, capital markets, insurance, financial risk management, and settlement operations. She is co-lead of Inclusion and Diversity for Finance, a part of the Gender Inclusion Council, and serves on the steering committee of Women in Finance. 
??Michael A.L. Johnson M.D., of Denver, Co., is a U.S. Army Veteran who served from 2011-2019. He is currently a committee member of the American Academy of Neurology, a professional society representing over 36,000 international neuroscientists, neurologists, practitioners, and students. His work focuses on increasing exposure, recruitment, mentoring, and career development opportunities for under-represented minorities interested in the neurosciences.
      Dr. Johnson earned his bachelor's degree at Juniata College in 2007. He became class president of his medical school class and received his medical degree from Howard University College of Medicine in 2011. He completed his neurology residency at Walter Reed National Medical Center in 2015 as the top-performing resident in his class. He completed his medical fellowship in clinical neurophysiology, and epilepsy with distinction in biomedical ethics at Vanderbilt University from 2019-2021 and earned the highest performing fellow award for two consecutive years. He is currently a board-certified neurologist at Colorado Neurodiagnostics, PLLC. and Global Medical Director for CEFALY Technologies.
Contact April Feagley at feaglea@juniata.edu or (814) 641-3131 for more information.