BELIEVE Campaign Raises Record-Breaking $128,600,351
(Posted October 8, 2021)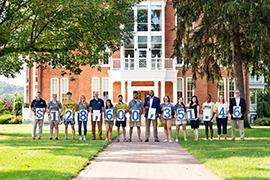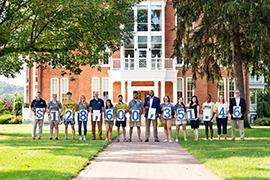 HUNTINGDON, Pa. — Juniata College has announced the successful completion of its seven-year comprehensive philanthropic campaign. BELIEVE: The Campaign for Juniata College raised a record-breaking $128,600,351 from generous alumni, friends, and community members investing in the College's future.
The campaign was led by trustee Elaine (Becker) Jones '76, retired vice president and senior partner at Pfizer Ventures, her husband Keith Jones '75 along with their former faculty member and current trustee Charles W. "Bud" Wise III, retired vice president of human resources for PPG, and his wife, Barbara. Elaine said, "During one of the most difficult times in recent history, our friends, faculty, students, parents, staff, and alumni galvanized around the mission of Juniata College, completely shattering our original goal to raise $100 million and then surpassed our revised goal of $115 million to top $128 million, the largest amount ever raised in the college's history."
While the campaign will continue to improve student experiences for years to come, it is already having a direct impact on campus. The results of the BELIEVE Campaign are significant in the widespread and recent improvements to campus facilities, heighten learning spaces, faculty support, expanded access for students to pursue their education in increasing the number of scholarships available to aid students, and the mindful implementation of new programs.
Dr. James Troha, president of Juniata College, said, "We are truly humbled by the generosity of so many friends and alumni. Many thought our original goal of $100M was unattainable but this community spoke loudly of its support of our collective ambition to continue our ascent as one of the best colleges in the United States."
Among the multitude of gifts provided through the BELIEVE Campaign are the foundation of endowed scholarships; support for student research and internships; creation of endowed professorships; establishment of new student programs, including Pep Band and Mock Trial; the addition of men's and women's lacrosse, men's and women's golf, and men's swimming;; the creation of the Statton Learning Commons; construction of the Tom and Pat Kepple Integrated Media and Studio Arts Building and the Winton Hill Athletics Complex; and renovations to Brumbaugh Academic Center, Ellis Hall, Good Hall, Cloister Hall, and Kennedy Sports and Recreation Center.
"The passion and power of the Juniata network is incredible," said Mary White, chair of the Board of Trustees. She went on to say, "the enthusiasm, time, and particularly the generosity has improved every aspect of our campus."
Jim Watt, vice president of advancement at Juniata College said, "The campaign recruited over 3,600 volunteers that provided over 126,000 hours to elicit the support of nearly 7,500 donors that gave over $128 million to improve our campus and enhance the student experience."   
To learn more about BELIEVE: The Campaign for Juniata College, visit https://www.youtube.com/watch?v=ckkzCruq8Ts&t=5s
Contact April Feagley at feaglea@juniata.edu or (814) 641-3131 for more information.