Preparing Their Case: Juniata's 'Legal Eagles' Launch Fourth Season
(Posted October 11, 2021)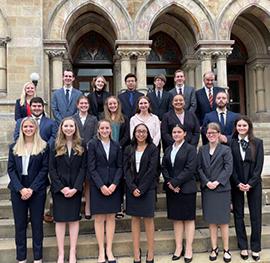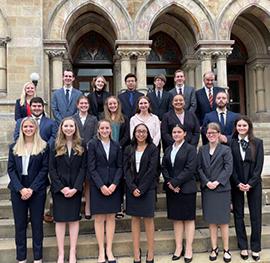 HUNTINGDON, Pa. — Juniata College's Mock Trial Team has set the "bar" high in their first three seasons and is prepared to approach the bench once more as a nationally-ranked team in their fourth season. The "Legal Eagles" advance 40 places in this year's American Mock Trial Association (AMTA) National Rankings.
The season opened with a scrimmage against Bucknell University held October 3 at the historic Blair County Courthouse located in Hollidaysburg, Pa.
Juniata's A team will next compete in the 14th Annual Happy Valley Invitational October 15-17. Only the top-ranked teams in the nation participate in this competition, including Yale University, University of Virginia, Cornell University, University of Pennsylvania, Georgetown University, Ohio State University, University of Portland, and Penn State University. Last year, Juniata finished in the top five at this competition.  During the same weekend, Juniata's B team will compete at the University of Scranton.
"It is a tribute to our students that we have once again been invited to the prestigious Happy Valley Invitational to compete against the top teams in the country," said the team's coach Dave Andrews '74.
Governed by the American Mock Trial Association (AMTA), Mock Trial is an academic competition in which students assume the roles of attorneys and witnesses in a trial. Teams compete against other colleges and universities. In competition, each team tries the case four times, twice as prosecution and twice as defense. All of the teams are given the same information and witnesses must stick to the affidavit provided, but the ways different teams interpret the information highlight and challenge each member's ability to adapt, problem-solve, and think on their feet. 
This season's case is set against the all-too-familiar backdrop of the COVID-19 pandemic. At the beginning of the season, each team receives a binder of discovery for the case they will try during their competitions. Unlike last season's civil case, teams competing this season will be trying a criminal aggravated arson case.
The evidence provided is complex and the teams must determine what exactly happened at a failing bar called Chuggies. The cash-strapped owner had just completed renovations when the fictitious state of Midlands closed bars and eateries in a COVID-19 mitigation effort. Offering take-out proves insufficient to keep the business going and the owner falls behind on his loan payments. Ineligible for COVID-19 benefits from the government, Chuggies continues to flounder even after businesses are permitted to open to the public once more. Then, the bar is heavily damaged by fire. Witnesses, reliable and otherwise, relate conflicting tales of flammable paint thinner placed near electrical outlets days before the fire, a sighting of the owner frantically trying to win money at a local casino, and seeing the owner far from the bar at the time of the fire. Adding to the confusion, the bar owner is a volunteer firefighter who fought the fire at his property.
Members of the Juniata College A Team include Mitch Jellen '22 of Telford, Pa., Sarah Cook '24 of State College, Pa., Dan Cummins '24 of Clarks Summit, Pa., Holly Guise '25 of Hollidaysburg, Pa., Isa Wisenburn '25 of South Abington Township, Pa., Kyle Boyer '24 of Lewistown, Pa., Francesca Satiro '25 of Leola, Pa., Quintin Ioime '24 of Hamden, Ct., and Vanessa Alvarez '25 of Ramsey, NJ. The Juniata B Team includes Courtney Eller '23 of Colver, Pa., Olivia Day '24 of Duncansville, Pa., Brendan Andrews '25 of Altoona, Pa., Alex Sanna '24 of Hummelstown, Pa., Max Oley '25 of Richmond, Va., Allison Johnston '24 of Blairsville, Pa., Brenna Colner '25 of Allison Park, Pa., Sean Chia '25 of Tenafly, NJ, Shea Langille '25 of Stewartstown, Pa., and Emerson Strawser '25 of Harrisburg, Pa.
Contact April Feagley at feaglea@juniata.edu or (814) 641-3131 for more information.