Juniata's 'Legal Eagles' Square Up Against Nationally-Ranked Powerhouses
(Posted October 18, 2021)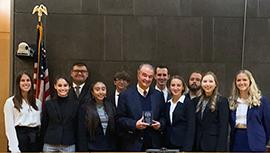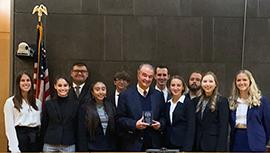 HUNTINGDON, Pa. — The "Legal Eagles," Juniata's Mock Trial team, soared above the competition at the prestigious 14th Annual Happy Valley Invitational this weekend, placing third out of the 22 best teams in the nation.
Mitch Jellen '22 of Telford, Pa., was recognized with an Outstanding Witness Award at the tournament.
"All of the teams were nationally-ranked. To be invited to compete is great alone, and doing very well is even better," said the team's coach, Attorney David Andrews '74. "It's significant that the majority of the team are first years and sophomores. For many, it was their first real competition at a live tournament. Everyone exceeded expectations and did a super job. Our team members weren't intimidated by anyone."
In competition, each Mock Trial team tries the case four times, twice as prosecution and twice as defense.
Juniata defeated Dickinson College in the first round and Francesca Satiro '25 of Leola, Pa., was named top attorney by both judges. In their second round, they split with Case Western Reserve University. The team went on to topple University of Maryland for a chance at the Championship. The final trial saw Juniata's rising stars split with a formidable Ohio State University, ranked eighth in the country for 2020-2021.
Other teams competing in Happy Valley included Yale University, University of Virginia, Cornell University, University of Pennsylvania, Georgetown University, University of Portland, and Penn State University. Last year, Juniata finished in the top five at this competition. This year, Juniata's team finished higher than Yale University, University of Virginia, Ohio State University, University of Maryland, and Tufts University.
The "Legal Eagles" advanced 40 places in this year's American Mock Trial Association (AMTA) National Rankings.
Governed by the American Mock Trial Association (AMTA), Mock Trial is an academic competition in which students assume the roles of attorneys and witnesses in a trial.
At the beginning of the season, each team receives a binder of discovery for the case they will try during their competitions. The evidence provided is complex and this year, the teams must determine what exactly happened at a failing bar called Chuggies. The owner of the recently-renovated bar hit hard times when his business was forced to close due to the COVID-19 pandemic. When the establishment is heavily damaged by fire, Chuggies' owner is accused of setting the fire for the insurance payout. Judges determine how adeptly each team's attorneys argue their case while the team's witnesses represent the evidence provided.
Teams compete against other colleges and universities. All of the teams are given the same information and witnesses must stick to the affidavit provided, but the ways different teams interpret the information highlight and challenge each member's ability to adapt, problem-solve, and think on their feet. 
Contact April Feagley at feaglea@juniata.edu or (814) 641-3131 for more information.