'Legal Eagles' Grab First Place Victory at Invitational Tournament
(Posted October 25, 2021)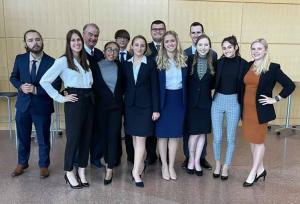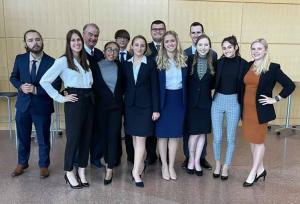 HUNTINGDON, Pa. — Juniata's "Legal Eagle's" dizzying ascent continued this weekend with a decisive first place win in the invitational Bear Brawl Classic, hosted by Missouri State University. The Mock Trial team left the courtroom with a perfect 8-0 record and as the only undefeated team in the tournament.
         Dan Cummins '24 of Clarks Summit, Pa., was recognized with an Outstanding Attorney Award with a perfect score of 20.    
"It was a great accomplishment for our team to finish first in a 36 Team Tournament with primarily large University schools," said the team's coach, Attorney David Andrews '74. "We finished ahead of the other schools that placed, such as the University of Texas, the University of Wisconsin, Auburn University, and the University of Rochester, among others." 
         In competition, each Mock Trial team tries the case four times, twice as prosecution and twice as defense. Juniata faced off against Dickinson College, University of Kansas, University of Wisconsin, and Loyola University of Chicago, defeating each 2-0.
         The "Legal Eagles" advanced 40 places in this year's American Mock Trial Association (AMTA) National Rankings.
         Governed by the American Mock Trial Association (AMTA), Mock Trial is an academic competition in which students assume the roles of attorneys and witnesses in a trial.
         At the beginning of the season, each team receives a binder of discovery for the case they will try during their competitions. The evidence provided is complex and this year, the teams must determine what exactly happened at a failing bar called Chuggies. The owner of the recently-renovated bar hit hard times when his business was forced to close due to the COVID-19 pandemic. When the establishment is heavily damaged by fire, Chuggies' owner is accused of setting the fire for the insurance payout. Judges determine how adeptly each team's attorneys argue their case while the team's witnesses represent the evidence provided.
         Teams compete against other colleges and universities. All of the teams are given the same information and witnesses must stick to the affidavit provided, but the ways different teams interpret the information highlight and challenge each member's ability to adapt, problem-solve, and think on their feet. 
Contact April Feagley at feaglea@juniata.edu or (814) 641-3131 for more information.