Making a Better Future: Juniata Sophomore to Participate in Nobel Scholarship Program
(Posted November 4, 2021)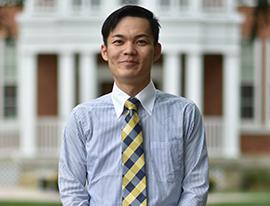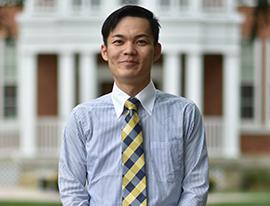 HUNTINGDON, Pa.— Ten future leaders from around the world, including Juniata College sophomore Kei Takahashi, have been selected to take part in a first-of-its-kind, high-impact student scholarship program, the Nobel Week Dialogue, which will culminate in a virtual event and attending the Nobel Prize Ceremonies in Stockholm, Sweden, in early December next year.
"Since I was in middle school, I've always thought about what I can do for the world," says Takahashi, who is studying international politics. "I definitely have a passion to do something for the world and think about ways to make changes in society."
Created by EF College Study and The Forum on Education Abroad, in partnership with the Nobel Prize Museum, the interdisciplinary program combines online project-based courses, international field study in Sweden, and virtual? attendance at the 2021 Nobel Week Dialogue.
"It's a really competitive program, designed so students of the world can learn with Nobel Prize laureates to make a better future," he says. "The other students are not only from the United States. I am from Japan; Malaysia and parts of Europe are represented, so we are also learning intercultural communication."
To be considered for the highly-selective program, undergraduate and graduate students submitted applications and three letters of nomination from a faculty member or administrator. Applicants were asked to write an essay on the subject of necessary changes to the world to improve social justice and equity. Finalists then completed a phone or virtual interview.
"Receiving this highly competitive scholarship speaks volumes about Mr. Takahashi. Kei is absolutely passionate about international education and is committed to making this world a better place for all," says Caitlin Murphy, Dean of International Education. "We are so proud of him and cannot wait to see how this experience helps shape him, his fellow scholars, and the greater global community."
On the morning of the Opening Ceremonies of the Summer Olympics in Tokyo, Takahashi, his parents, and family found themselves celebrating his award on a video chat when the notification unexpectedly popped onto his screen.
"It was a really nice moment," Takahashi says. "I was very excited."
The Nobel Prizes have honored world-changers in physics, chemistry, medicine, literature, and peace annually since 1901, with laureates honored in early December. Founded by chemist, engineer, and inventor Alfred Nobel through an endowment in his will, the prizes honor "those who, during the preceding year, have conferred the greatest benefit to humankind."
The students participating in the Nobel Week Dialogue will spend the week prior to the award ceremonies learning from and conversing with speakers invited to share their research. The group will also complete their final project, which will be displayed at the Nobel Prize Museum.
Contact April Feagley at feaglea@juniata.edu or (814) 641-3131 for more information.