Poet to Present 'The Place Where Peace and Justice Meet: A Poetry Reading' at Juniata
(Posted November 8, 2021)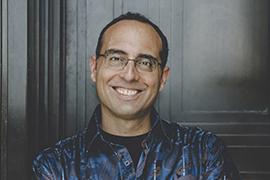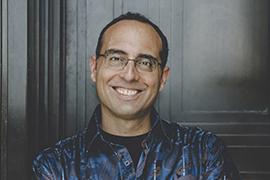 HUNTINGDON, Pa. — Juniata College will host author and poet Philip Metres, who will present, "The Place Where Peace and Justice Meet: A Poetry Reading," at 7:30 p.m. Wednesday, Nov. 17, in Neff Lecture Hall, von Liebig Center for Science at Juniata College. 
Supported by the Edwin A. and Susan R. Malloy Lectureship, this event is hosted by the Office of the Provost and is free and open to the public.
Metres will read from three of his works, Shrapnel Maps, Sand Opera, and his currently-untitled next book. Those in attendance will have the opportunity to participate in a Q&A with the author following the readings.
The author of over 15 books and chapbooks, including The Sound of Listening: Poetry as Refuge and Resistance, Pictures at an Exhibition, and I Burned at the Feast: Selected Poems of Arseny Tarkovsky, Metres' writings includes poetry, translation, essays, fiction, criticism, and scholarship and have been translated into Arabic, Farsi, Polish, Russian, and Tamil.
Shrapnel Maps has been described as "exploratory surgery" of the wounds and reverberations of the Israel/Palestine conflict, the work "ranges from monologue sonnets to prose vignettes, polyphonics to blackouts, indices to simultaneities, as Palestinians and Israelis long for justice and peace, for understanding and survival."
Sand Opera utilizes testimony from the U.S. invasions of Iraq, Abu Ghraib survivors and torturers, alongside personal reflections on fatherhood and Arab-American life, in the concept of an opera. The writings create a layered narrative, with the writings connected through simultaneity.
His work has garnered fellowships from the Guggenheim Foundation, the Lannan Foundation, the National Endowment for the Arts, the Ohio Arts Council, and the Watson Foundation. He is the recipient of the Adrienne Rich Award, three Arab American Book Awards, the Lyric Poetry Prize, and the Cleveland Arts Prize.
Metres is a professor of English and director of the Peace, Justice, and Human Rights program at John Carroll University. He lives with his family in Cleveland, Ohio.
The Edwin A. & Susan R. Malloy Lectureship endowment was created by Edwin A. and Susan Rabinowitz Malloy to enhance the quality of life at the College and in the Huntingdon community.
Contact April Feagley at feaglea@juniata.edu or (814) 641-3131 for more information.