Legal Eagles Wrap Up Fall Invitational Season
(Posted November 18, 2021)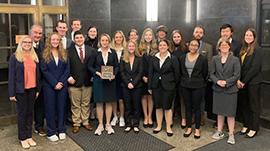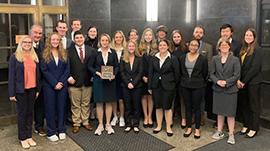 HUNTINGDON, Pa. — Returning to their aerie from the "Swear Me In Scotty" tournament at Carnegie Mellon University with a third-place win, Juniata's Mock Trial team, the "Legal Eagles," have finished a very successful fall invitational season.
Both Juniata's Blue and Gold teams were invited to compete among the 24 teams facing off at the tournament. The teams will resume competition at Johns Hopkins University Jan. 22, 2022.
"This was a tough tournament, with evenly-matched Mock Trial teams. Throughout every tournament this fall, we placed no lower than third place. In Mock Trial, the top five are recognized at each tournament, as not every team can face off against each other," said the team's coach, Attorney David Andrews '74. "That information is posted on the American Mock Trial Association (AMTA) website. It's very gratifying to go to tournaments where everyone knows where Juniata is and pronounces it correctly."
Two team members, Alex Sanna '24 and Emerson Strawser '25 each won an Outstanding Witness Award.
"The biggest challenge of being a witness is making up answers on the spot. You need to stay within what your witness has previously said, but you also need to add personality and help your side of the case," says Sanna. "I was honestly shocked when I got the award."
In competition, each Mock Trial team tries the case four times, twice as prosecution and twice as defense, with students assuming the roles of attorneys and witnesses in a trial. This year, Juniata's team has advanced 40 places in the AMTA National Rankings.
"My favorite part of Mock Trial is the rush I get from being on the stand during competitions and the feeling of using my words to navigate the situation by choosing what I say in order to get my team's point across," says Strawser, who added some character to her witness portrayal by testifying with a Southern accent. "I also love being a funny witness and seeing the look in the judges' eyes. I can tell they are trying not to laugh. That's just fun. I'm proud to bring back awards for the team and keep our tradition of winning strong."
Juniata faced off against two of the top four teams at the tournament and finished ahead of such teams as Princeton University, Michigan State University, and the University of Tennessee.
Teams compete against other colleges and universities. All of the teams are given the same information and witnesses must stick to the affidavit provided, but the ways different teams interpret the information highlight and challenge each member's ability to adapt, problem-solve, and think on their feet. 
"I am so proud of our team members who step up against some tough competition. They score you on your knowledge of case law and the rules of evidence," Andrews says. "We had some major evidentiary battles and our team members are really good at arguing the rules of evidence."
Contact April Feagley at feaglea@juniata.edu or (814) 641-3131 for more information.