Turtle Researchers Discover Novel Behavior in a Rare Species
(Posted December 2, 2021)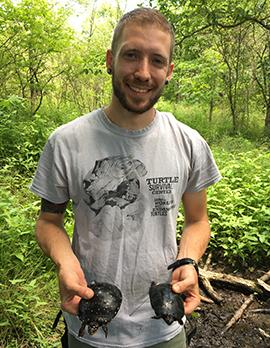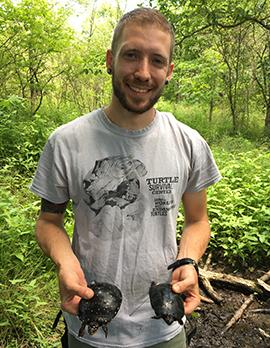 HUNTINGDON, Pa. — Long-lived turtles continue to surprise scientists with new behaviors as evidenced in a recent article by Roy Nagle, director of environmental health & safety and instructor of environmental science & studies at Juniata College, along with Travis Russell '13, and Ryan Rimple '21 published in Ecology, a leading scientific journal.
Through their work, "Sheltering Oak: Spotted Turtles in a Tree," Nagle, Russell, and Rimple explore the commensal relationship between a small, isolated population of spotted turtles in central Pennsylvania and a seemingly unassuming swamp white oak.
"I don't know that anyone has ever documented a turtle using a hollow tree, and I don't know that there is anything quite like this oak tree," says Nagle. "The tree provides many functions for this small population of turtles: access to food and mates, thermal stability during winter, basking sites, and shelter and protection from predators. It's 12 feet in circumference and probably centuries old."
Russell, who is regional coordinator for the Pennsylvania Amphibian and Reptile Survey and a current Master's degree student at Juniata, and Rimple, a research technician at the University of Georgia, Savannah River Ecology Laboratory, are former students of Nagle. The researchers were using radio telemetry to track the local population of spotted turtles, a species currently under review by the U.S. Fish and Wildlife Service for consideration to be added to the federal listing of endangered species.
"They are very cold-tolerant and very active during cold weather, but are only active for a fairly short period of time each year. When it gets hot, they aestivate and become inactive," Nagle says. "Then, they are active again in the fall and move to wintering sites in late October."
While tracking in October 2019 to determine the species' seasonal movement patterns, to better understand the habitat in need of protection, radio transmitters were placed on a number of adults. Inexplicably, one adult female's transmitter was tracked to a large swamp white oak tree with a system of pronounced buttressed roots. Researchers initially thought the turtle sought shelter in the leaves collected among the roots. A closer look indicated the turtle was not beneath the tree, but rather inside — leading to a possibly sad conclusion that it had fallen victim to a predator who enjoyed a meal inside the hollow of the tree.
"A week later, one of the males with a transmitter was suddenly in the tree as well. Within a month, we had rain and the tree was surrounded by pools of water, with two underwater passageways in and out," says Nagle. "We started setting traps to catch them right outside the tree. The next year, we put little fences around the openings to see which turtles were coming in and which were going out. We also used an endoscopic camera to photograph turtles inside the tree."
The findings indicated 11 members of the tiny population utilized the tree more than 40 times in the spring of 2021.
"The tree serves as a rendezvous site for mating during early spring, and provides unique habitat during winter. The entrance holes are just the right size for spotted turtles, and water inside the tree stays colder than the water outside," he says. "The turtles prefer overwintering habitat that is the coldest it can be without freezing."
The findings provide rare insight into the hidden lives of an often-overlooked species and an opportunity to learn more.
"Turtles have been on earth for more than 200 million years, and they are suffering impacts on an unprecedented scale because of humans. We have an obligation to try to understand those impacts and what we can do to reverse them," says Nagle. "Turtles are fascinating animals because of their longevity and unique life-history strategies. The more we learn about them, the more questions we have."
Access to the published article in Ecology is available at http://doi.org/10.1002/ecy.3585
Contact April Feagley at feaglea@juniata.edu or (814) 641-3131 for more information.