Gift of Life Donor Program Offers Unique Summer Internships to Juniata Students
(Posted December 6, 2021)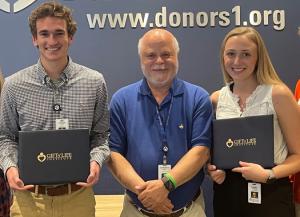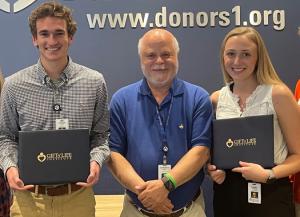 HUNTINGDON and PHILADELPHIA, Pa. — Two highly-accomplished students gained unique insight into the life-saving work of the busiest organ donation and transplantation network in the country thanks to a newly established internship with Gift of Life Donor Program headquartered in Philadelphia.
Gift of Life's Juniata College Internship kicked off its inaugural year as Casey Starr Kauffman '22 of State College, Pa., whose Program of Emphasis (POE) is biochemistry, and Joseph A. Lapp '22 of Lancaster, Pa., whose POE is biology, spent 10 weeks this past summer interacting with experts and physicians in the field of organ and tissue donation and transplantation.
The internship was established by Juniata alumnus Howard M. Nathan '75, President and CEO of Gift of Life Donor Program and Founder and President of Gift of Life Institute. Under Nathan's leadership, Gift of Life has coordinated 55,000 life-saving transplants and more than two million life-enhancing tissue transplant allografts, and is the largest organ donor program in the nation. The internship is funded by the Howard M. '75 and Lizabeth A. Nathan Scholarship and Gift of Life'sTransplant Foundation.
"As Juniata taught me, we all have the ability to make a difference. We were so pleased to offer Juniata students the opportunity to learn from Gift of Life's team as we work to improve the health and well-being of our community," said Nathan. "Casey and Joe gained valuable insight into the highly complex, life-saving clinical situations we address every day. We hope that their experience will inspire them to take on big challenges to help others."
The interns experienced all major facets of Gift of Life's work, including interaction with intensive care and emergency department teams, communication with patients' families during end-of-life care, and surgical recovery of organs for transplant as well as organ transplant surgeries. They also assisted in the recovery of tissues used for orthopedic, ophthalmic, and cardiovascular surgeries in addition to processing at tissue banks. They witnessed the generosity of donor families giving the gift of life and counseling provided by licensed social workers through Gift of Life's Family Support Services staff. Kauffman and Lapp also toured Gift of Life Family House, which provides affordable lodging and support services for patients and their families who travel to Philadelphia for transplant-related care.
This year's participants both boast strong academic records along with exemplary community service. Kauffman is a research assistant, tutor, president of the college's Emergency Medical Services Club and is certified as an EMT and a Nursing Assistant. Lapp is a research assistant, tutor, resident assistant on campus, certified EMT, and a Quick Response Services Emergency Medical Services Chief.
Thank you to Gift of Life Donor Program for providing this extraordinary internship opportunity to Juniata students.
Contact April Feagley at feaglea@juniata.edu or (814) 641-3131 for more information.