Live from Washington, D.C.: Internship Places Juniata Student on Frontline of History
(Posted December 16, 2021)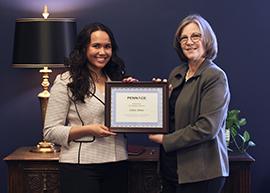 Photo by Olivia Marie '23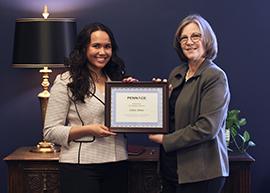 Photo by Olivia Marie '23
HUNTINGDON, Pa. — Following an internship that placed her on the frontline of history in the making, Claire Alfree '22 has been recognized as the 2021 JoAnne Day Student of the Year in the Liberal Arts category by PennACE (the Pennsylvania Association of Colleges and Employers). 
Named for the late JoAnne Day, in honor of her passion for education and commitment to students, the award recognizes the achievements and contributions made by undergraduate students who have completed an internship. 
"I'm still in shock that I've been recognized by PennACE. I know my summer and semester in Washington, D.C., has been an unconventional way of finishing my college career," Alfree says. "Spending the past six months in Washington, D.C., has been an absolute dream come true. I don't know what I would do without my Juniata family supporting me along the way."
Alfree, who is studying multimedia journalism, was hired as a fellow through the Emma Bowen Foundation, which recruits promising students of color and places them in multi-year paid internships at some of the nation's leading media, public relations, and technology companies. As an intern, she worked as a production assistant at Hearst Television's Washington News Bureau during the summer of 2021 in Washington, D.C. Alfree's internship was also supported by the Fund for American Studies. 
Walking into a newsroom amid a global pandemic, Alfree found herself producing multiple live shots from various locations, assisting reporters with interviews, logging feeds, managing video needs, and booking satellite time for affiliate stations.
"I was proud to win this award, not just because my hard work had paid off, but to prove you don't have to go to a big D1 school to be successful," she says. "This award is not just a win for me, but for Juniata College. I'm proud to represent our very special institution."
Alfree spent the fall semester completing an internship through The Washington Center (TWC), the largest independent, nonprofit provider of experiential education programs in the United States. TWC's semester-long internships integrates academic and work experiences in government, corporations, and nonprofit organizations, tailored to provide meaningful work experiences to provide participants with the skills needed after college. 
Alfree credits her adviser, Jared LaGroue, instructor in education; Sarah Worley, associate professor of education, and Tammy Stuber, assistant director of career services, for their partnership and mentorship throughout the process of securing these valuable experiential learning opportunities. 
"These three, along with (Donna) Weimer (Thornbury Professor of Communication) and (Laura) Feibush (assistant professor of English) have been pushing me throughout my entire college career to prepare for my time in Washington, D.C.," says Alfree. "I cannot thank them enough."
Alfree individualized her Program of Emphasis (POE) and created new broadcasting opportunities on campus including sharing campus life as a member of the student vlogging team and hosting her own radio show on the campus station. She is a two-time recipient of funding from the Juniata Internship Endowment Fund and completed an internship with the National Journalism Center. Her determination to expand her journalistic horizons is evident in the tenacious pursuit of her dream internship. 
"During the internship application process, you must have resilience and never give up, no matter how many companies deny you. I applied to 40 other summer internship programs until I got a yes from Hearst Television," she says. "You can't just dream of these opportunities coming to you, you have to make them happen. Through perseverance, patience, and making the most of your Juniata resources, you can make your dream internship a reality."
Contact April Feagley at feaglea@juniata.edu or (814) 641-3131 for more information.