Scholar in Residence Brings Wealth of Experience to Juniata College
(Posted February 2, 2022)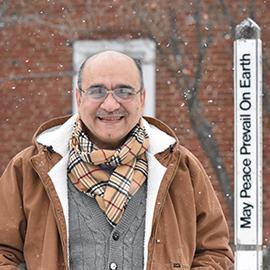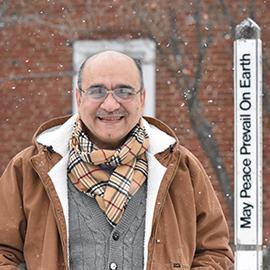 HUNTINGDON, Pa. —The Baker Institute for Peace and Conflict Studies at Juniata College welcomes Dr. Amr Abdalla as its spring 2022 Scholar in Residence.
Dr. Abdalla, a professor emeritus at the United Nations-mandated University for Peace (UPEACE) in Costa Rica, brings a wealth of experience from his work around the world, having visited more than 100 colleges and universities. In addition to his work with UPEACE, he is also the Senior Advisor on Conflict Resolution at the Washington-based organization KARAMAH (Muslim Women Lawyers for Human Rights). 
"I am very happy to be here and hope to make a good impact during my stay," says Dr. Abdalla. "Since we came here, it has been amazing. I walk around campus and feel a sense of elegance. The snow on the ground adds to the beauty."
During his semester-long residency, Dr. Abdalla is teaching a course, "Violent Extremism and Radicalization." He will provide guest lectures for both the campus and the wider community, including "Life after Peace Studies" at 7:30 p.m. Tuesday, Feb. 22, in Neff Auditorium, Von Liebig Center for Science. With this talk, Dr. Abdalla hopes to show the many doors a degree in peace studies can open for graduates in business, government, NGOs, and more
Dr. Abdalla's deep interest in peace and conflict studies is rooted in his first career working as a prosecutor in Egypt. His work following his graduation in 1977 led him to take a position in the national security office in 1981, just weeks before the assassination of President Anwar Sadat and the ensuing insurrection. 
"There was an attempt to overthrow the government by violent extremists led by the founding fathers of the likes of Isis and Boko Haram," he says. "The ideologies and the actions of these terrorists in 1981 inform a lot of what we are seeing today."
From 1981 to 1986, Dr. Abdalla was a member of the public prosecutor team investigating the assassination and numerous other terrorism cases. 
"This work for four or five years really impacted me. It made me realize the significance of looking at the phenomenon of terrorism and violence not only from a legal and security perspective but from a cultural, historical, and religious perspective as well," says Dr. Abdalla. "Our tools as prosecutors only allowed us to look at the legal dimension. Using the legal security instrument, you can only get rid of one group. That's where I found waves after waves of terrorist groups kept on emerging. The reason they are there is outside the legal realm. Another terrorist group would show up and we would go through the same vicious cycle."
His work led him to the United States in 1984, where he visited George Mason University and learned about their Peace and Conflict Studies graduate program. What struck him was the multi-disciplinary approach for analyzing conflicts and the systemic exploration of peaceful interventions at all levels.
"I was personally and professionally ready to embrace it," he says. "I thought, 'That's it. That's what I want to do for the rest of my life.'"
Dr. Abdalla returned to the United States to study at George Mason University a few years later and earned a master's degree in sociology and a Ph.D. in Conflict Analysis and Resolution, changing his career from prosecution to academia. 
He has taught graduate classes in conflict analysis and resolution and has conducted training, research, and evaluation of conflict resolution and peacebuilding programs in more than 70 different countries in Africa, Asia, the Middle East, Europe, and the Americas. 
From 2014 to 2017, he was the Senior Advisor on Policy Analysis and Research at the Institute for Peace and Security Studies (IPSS) of Addis Ababa University. In 2013-2014, he was Vice President of SALAM Institute for Peace and Justice in Washington, D.C. From 2004-to 2013 he was Professor, Dean, and Vice-Rector at UPEACE. Before that, he was a Senior Fellow with the Peace Operations Policy Program, School of Public Policy, at George Mason University, Virginia. He was also a Professor of Conflict Analysis and Resolution at the Graduate School of Islamic and Social Sciences in Leesburg, Va.
He has been an active figure in promoting inter-faith dialogue and effective cross-cultural messages through workshops and community presentations in the United States and beyond. He pioneered the development of the first conflict resolution teaching and training manual for Muslim communities titled "Say Peace." He also founded Project LIGHT (Learning Islamic Guidance for Human Tolerance), a community peer-based anti-discrimination project funded by the National Conference for Community and Justice (NCCJ). In 2011, he established with Egyptian UPEACE graduates a program for community prevention of sectarian violence in Egypt (Ahl el Hetta). In 2018 he led the publication of the first Arabic Glossary of Terms in Peace and Conflict Studies in cooperation with UNDP-Iraq and the Iraqi Amal Association.
Contact April Feagley at feaglea@juniata.edu or (814) 641-3131 for more information.