Solar Street Lights Enhance Safety and Bridge Campus and Community
(Posted February 8, 2022)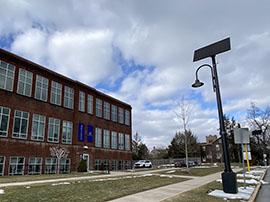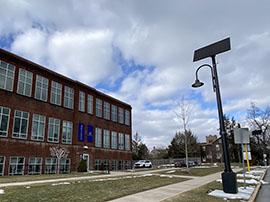 HUNTINGDON, Pa. — The path between campus and community has gotten brighter thanks to a new type of streetlight in the Borough of Huntingdon designed to make pedestrian travel safer. 
Twenty-seven solar streetlights were recently installed by borough maintenance employees along the corner of Moore Street from 14th through 16th streets, across 14th Street from Moore Street to Washington Street, and Washington Street from 9th through 14th streets. Juniata College worked with Huntingdon Borough throughout the grant application process to secure the $250,000 needed for the solar streetlights. This important safety upgrade took three years to become a reality.
The installation of these solar streetlights serves to enhance safety at night and connect the uptown portion (Juniata College campus) to the downtown section of the borough. Before the installation of these solar streetlights, there were only streetlights from 9th Street and above —toward campus — at the intersections. This resulted in limitations for pedestrians after dark. 
The solar streetlights not only increase safety after dark but also benefit people who suffer from low vision at night. The solar streetlights are called "smart lights," as they are activated by movement and communicate with each other— when one senses a passerby it informs the next light to be ready to turn on and be brighter.
The grant the borough received with the cooperation and input from Juniata College allowed for the 27 solar streetlights to be purchased at the cost of $6,465 per solar light. Once installed, there is no cost involved in operating the lights. The Borough of Huntingdon will continue to apply for grants in the hopes of receiving additional funding to install more solar streetlights along pedestrian thoroughfares within the borough.
This collaboration serves to acknowledge the commitment and importance of safety in the community by the Borough of Huntingdon and Juniata College. Working together benefits both the borough and the Juniata campus community.  
Contact April Feagley at feaglea@juniata.edu or (814) 641-3131 for more information.